Snuneymuxw Sons play basketball championship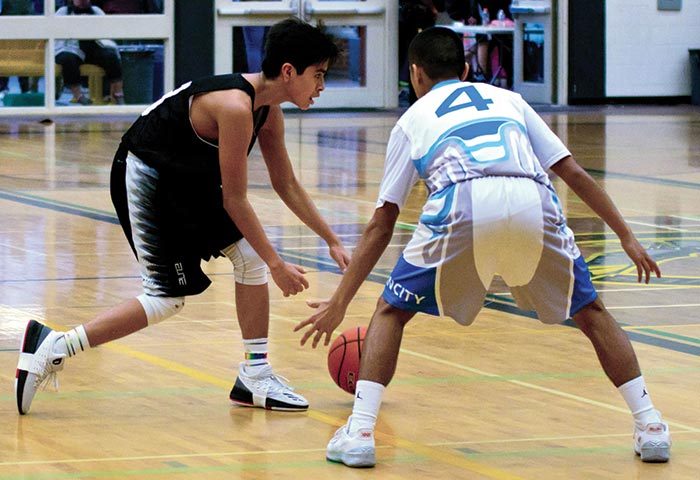 By Wawmeesh Hamilton
A third B.C. Junior All Native basketball championship wasn't to be for the Snuneymuxw Native Sons.
Vancity beat the Sons 82-66 in the final game of the boys division. The Sons's Jordan Gladstone and Quanmi Robinson were named to the tournament's first all-star team. Their teammate Donovan Mitchell was named best sixth player. Vancity's Kobe McKnight was named tournament MVP of the boys' division.
The teams were evenly matched during the game's first half. The Sons scored 18 points in the second quarter to pull within six points at 41-35. But Vancity tightened its defense and adjusted its offense and began pulling away in the third quarter, which ended 68-49. The Sons never came close again and the game ended 82-66.
The Sons march to the boys division final was through the winner's bracket with wins over Maaqtusiis, Vancity, Gitmadiik and Syilx.
The Sons and Musqueum Warriors were the only Coast Salish teams to compete in the tournament. The Ahousaht West Coast girls team, which plays out of Nanaimo, also competed in the tournament.
In the girl's division, the Greenville Timberwolves were named tournament champions after beating Vancity 85-51. Timberwolves guard Kristi Innes was named tournament MVP and her teammate Ashton Stevens was named best defensive player.
This year's tournament was held in Kelowna, and was hosted by Syilx Basketball, Okanagan Nation Alliance and Westbank First Nation. More than 60 teams competed – 22 girl's teams and 19 boy's teams. There were also 10 girl's teams and nine boy's teams that competed in the new U13 division.
The 2018 B.C. Junior All Native will be held in Vancouver.