Youth speak at 'Promising Practices' event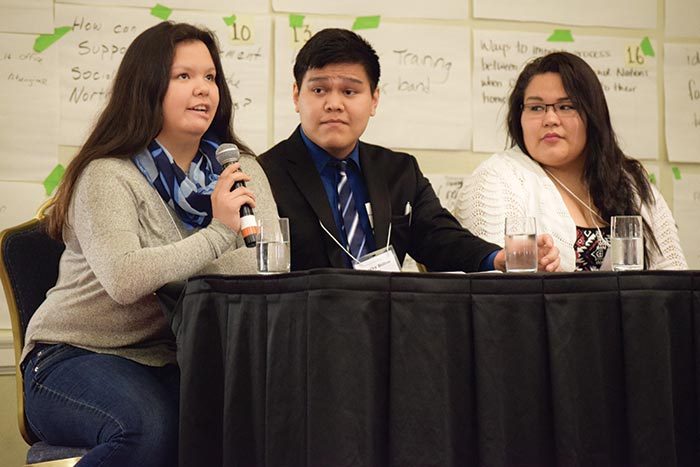 Indigenous youth who have been in government care shared their experiences with workers in the system during a two-day conference organized by Naut'sa mawt Tribal Council in late March.
The 'Promising Practices' event in Vancouver was attended by frontline service providers and representatives from First Nations and the province who discussed possibilities to improve outcomes for Indigenous kids in the system.
Currently, services to Indigenous children are underfunded compared to those for non-Indigenous kids, and they're 15 times more likely to be in foster care – a number that's increased over the years.
On the second day of the conference, a panel of three youth from the B.C. Ministry of Child and Family Development's advisory council spoke about what has helped them while in the system.
They also made some suggestions about what can improve.
Athena LeBlanc-Naziel said the most rewarding experience for her after being put into foster care was finding a connection with her home Wet'suwet'en territories through culture camps.
"It heals me," she said. "When I feel down or when I know I'm not in the best place, for whatever reason, I know if I go onto my territory, it'll connect with me and it'll spiritually heal me in a way that's kind of indescribable."
She said one thing she would like to see is better cultural services for First Nations youth who end up in urban centres.
"I know not being able to go home is sometimes an issue," she said. "Last summer we had one girl come to a culture camp and it was a culture shock to her. She was just learning who she was as a Wet'suwet'en person, because she was from the Vancouver area."
Meanwhile, Timothy Bolton recalled a social worker who helped him find the confidence to apply as valedictorian of his high school grad class in 2015.
"She boosted my confidence," he said.
"I went for it, and believe it or not, I actually got the part so I was valedictorian of the class. It made me happy that I made my social worker proud of me. I didn't really have a motherly figure."
Throughout the conference, other experts and frontline workers made presentations and broke out into groups discuss ways to innovate and improve services to Indigenous children.
The subject of Indigenous kids in care has been prevalent in B.C., with numerous expert reports slamming the provincial government for its failures in dealing with the issue.
Most recently, a March 30 report by newly appointed B.C. Representative for Children and Youth Bernard Richard said delegated Aboriginal service agencies are being underfunded so badly that Indigenous children are being removed from their homes and placed into care simply because proper support is not being provided to their families.
"Current funding levels by both the federal and provincial governments seriously undermine the capacity of delegated Aboriginal agencies to deliver essential services to vulnerable children and their families," Richard said in a statement.
"Instead of supporting prevention services, the funding model actually makes it more likely that Indigenous children will be removed from their families – a situation that I find appalling."
In late 2016, MCFD special advisor Ed John issued 85 recommendations to overhaul B.C.'s Indigenous child welfare system, something Premier Christy Clark has vowed to accept with time.
"We are committed to working with our federal, provincial and First Nations partners to do what is necessary to give Indigenous families better supports and help create a brighter future for their kids," she said in November.
"It can't happen overnight, but it must happen."