Talking trees: Coast Salish cultural tours begin in Squamish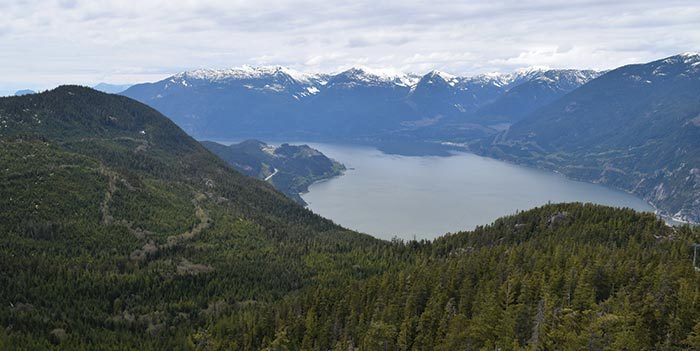 Standing in front of a picturesque view of the Stawamus Chief Mountain high on the alpine, Iris Lewis (Chichitelwet) tells the story of a two-headed sea serpent that left its mark on the cliff face.
A young man from the community had a vision about the monster that emerged from Murrin Lake, and trained for five years to slay it before killing it with a spear.
The serpent had brought dark cloud over the Squamish people and, but when it was vanquished, a good energy returned, and remains there today.
"Anytime I'm up here, I can feel the energy from the Chief," Lewis, a member of Squamish Nation, said. "There's a very good energy here."
Lewis is one of several Indigenous guides who are taking tourists on a cultural journey on the trails up the Sea to Sky Gondola, after a partnership between the gondola and Indigenous-owned Talaysay Tours.
The "Talking Trees" interpretive tours began in Squamish on May 13.
During a media preview on May 9, Talaysay owner Candace Campo (xets'emits'a) led guests on a picturesque walk through the forest, stopping to talk about different varieties of trees and their uses. She also spoke about other traditions specific to the alpine area of Squamish Nation's territory.
"I was raised by a forester who loved nature, I grew up fishing, clam-digging, harvesting traditional foods," she explained.
"The Squamish people are in my heart considered the richest people. They are wealthy because they invest their resources in education and culture."
Visit www.talaysay.com or www.seatoskygondola.com for more information about Talaysay Tours and Talking Trees.