lessLIE: Modernizing Tradition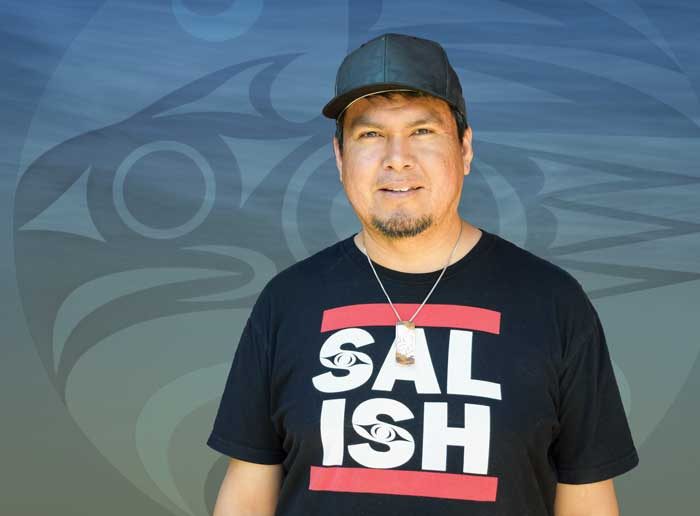 By Cara McKenna
For Coast Salish artist lessLIE, even his name is a well-crafted piece of art.
"My colonized, Catholic, Canadian name is Leslie Robert Sam," he introduces himself.
"And my decolonized artist name is lessLIE."
The self-given name has several different significances behind it, he said. One inspiration being a famous quote from famed artist Pablo Picasso: "art is a lie that makes us realize truth."
He also, as an urban-raised Indigenous person, wanted to give himself a meaningful name without colonial ties. And he just wanted to intrigue people.
"I don't sensor what I have to say about my culture, about the world in general," he said.
"I've always approached my career from that perspective."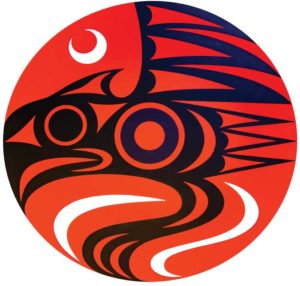 lessLIE's tendency to get political by cheekily incorporating corporate logos into Coast Salish works—and use art to touch on subjects like residential schools and environmental destruction— probably hasn't helped him in tourist markets.
But that hasn't stopped him from making as a living as an artist for the past 14 years, building on the legacy of artists like Lawrence Paul Yuxweluptun and Susan Point.
"I think I put myself in a vulnerable position sometimes," he said.
His artwork often finds ways to modernize traditional styles, through simple but precise graphic designs on canvas, paper or objects like drums and paddles.
His work has been shown worldwide, in London, the National Gallery in Ottawa and around the West Coast, and he has exhibits coming up in Victoria and Vancouver.
"As part of my art practice I also like to include writing, because writing is really pivotal to the appreciation of my work," he said.
"I just want to challenge people's preconceptions and notions about what constitutes contemporary Coast Salish artists and deconstruct the stereotypes of that."
In fact lessLIE has only ever worked in Coast Salish styles, and while he was working on a Master's Degree at the University of Victoria, focused on the lack of literature around Coast Salish artwork.
He especially wants to enact his own culture because he noticed a lot of literature seemed biased towards northern Northwest Coast artwork over Coast Salish.
lessLIE is mostly Cowichan, and his father's side is Penelakut.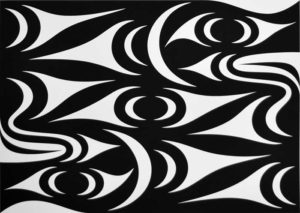 Growing up in Seattle, he was raised by carver Gary Rice of Musqueam, but Rice worked in more of a Kwakwaka'wakw style, he said.
"He would invite me down in the basement, which is where he worked," he said. "He encouraged me to become an artist, and so from the time I was six it was my childhood dream to become an artist and from that time onward I drew."
Now that he has found success as an artist, he is eager to pass that encouragement down to the next generation.
Throughout his life he has mostly lived in cities, but for the past three years lessLIE has been living in a more rural environment at Snaw-naw-as First Nation with his partner Amanda Bob, stepson and young daughter.
"I never imagined myself living here," he reflected. "But I enjoy it, it's really peaceful and calm."