Tsleil-Waututh elder receives award for visionary work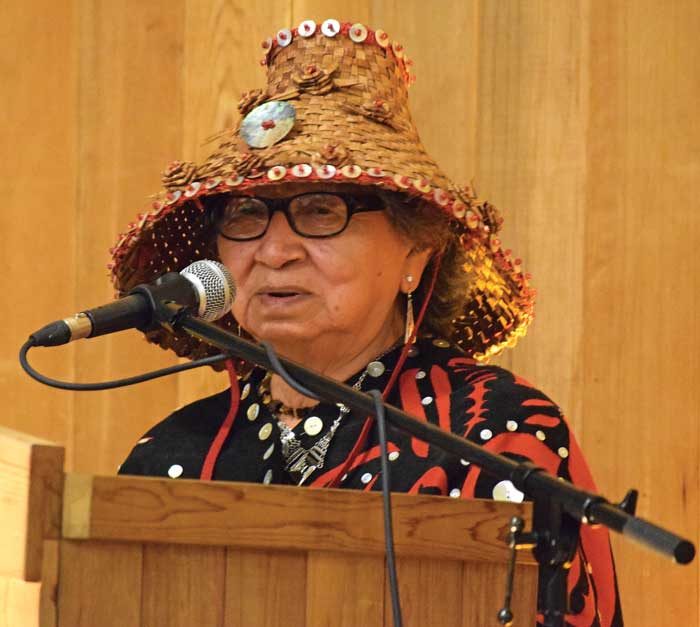 Tsleil-Waututh elder Margaret George has been honoured for a lifetime of visionary work around education and community service.
George was honoured at Native Education College's sixth annual awards gala to honour alumni. The event took place at Musqueam on June 2, and the Gertie Gertrude Visionary Award was presented to George as the last award of the evening.
George said the award is particularly meaningful to her because the award's namesake, Gertrude, was her close friend and colleague.
The two worked together on the Downtown Eastside and were founding members of NEC.
When the government wanted to shut down the school, they used teamwork to save the school's funding.
"She was my mentor, she was a leader, she was a lady you looked up to," George said about Guerin. "She always said, we don't want this to be a white man's program. We want this to be something Native students feel very comfortable in."
George also thanked the school for helping her to become successful in her own career through teaching her how to do things such as develop curriculum, read financial statements and how to deal with government.
George was a community service worker on the Downtown Eastside for more than 20 years.
"That was a bucket of responsibilities," she said. "You had to be a counsellor, an accountant, a writer and you had to be able to help parents when they went to court. You had to understand the legal system."
George is currently on her 17th year as an elder-in-residence at Simon Fraser University, and has also been an elder-in-residence at the Nicola Valley Institute of Technology for eight years.
She holds a Bachelor of Arts degree in Anthropology from the University of British Columbia, a Diploma in the Chemical Addictions Program at NVIT and a Certificate of Achievement from the Justice Institute of B.C.
Along with NEC, she has served on a number of boards including the Vancouver Friendship Centre, the Allied Indian Metis Society and Women's Information Centre: Home.
She has five children, five grandchildren and two great grandchildren.