Artists embrace 'intangible' Coast Salish identity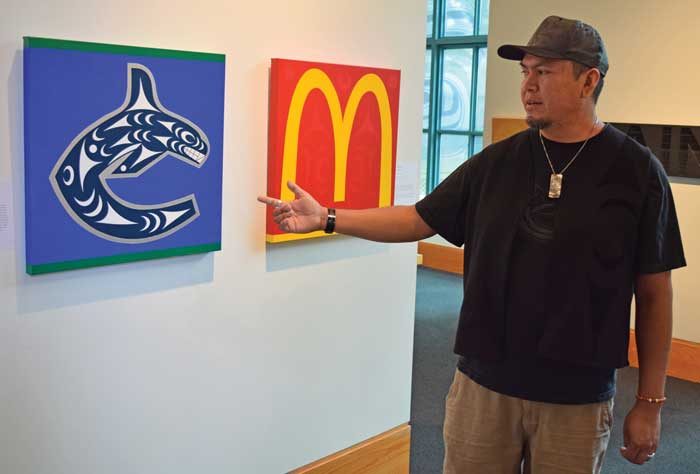 Photos and story by Cara McKenna
Creating Coast Salish artwork in 2017 can be complicated: just ask multimedia artist Ostwelve (Ronnie Dean Harris).
"What I've been told is Coast Salish changes every year," he said. "We've had a hard time as Coast Salish people placing ourselves in a contemporary culture. To understand who we are … it takes disruption of the popular culture that exists in this place."
Ostwelve, who was born in Sto:lo territory, took his questions about Coast Salish identity and turned it into a video art piece called "Speak of What you Know." He sat in the places where his grandparents are from and wrote a spoken word piece about the intangibility of modern Indigenous identity.
"My grandmothers were weavers, so I get to use words to weave," he said. "A thousand years ago I'd be speaking in a longhouse or weaving it into design but today we use media."
Ostwelve is one of six Coast Salish artists who have created works for the new Intangible exhibit at the Bill Reid Gallery in Vancouver.
The exhibit embraces the complicated nature of what it means to be Coast Salish, and includes works in a diverse array of mediums and styles.
Roxanne Charles of Semiahoo First Nation looks at women's issues through performance and multimedia weaving, while lessLIE (Leslie Sam) of Cowichan Tribes tackles issues like capitalism and Indigenous land rights through paintings and woodwork.
In one piece, lessLIE drafted a "culturally correct" Coast Salish version of the Vancouver
Canucks team logo. In another, he gives a Coast Salish treatment to the Starbucks mermaid.
"How do contemporary Coast Salish people fit within modern capitalist society?" he asked. "(I wanted to) question the idea of if these corporations can even exist without Indigenous territory."
Intangible was curated by Sharon Fortney of the Klahoose First Nation and Bill Reid Gallery's Beth Carter.
"Each artist featured at Intangible comes from a unique background," Carter explained. "Some are primarily influenced by their respective lineages, while others have found inspiration from sources within and outside their immediate community. This fluidity of knowledge gathering opens the way for a wealth of new and exciting ideas to surface."
The exhibit will be on display until Dec. 10.