No Comments
Networking works on housing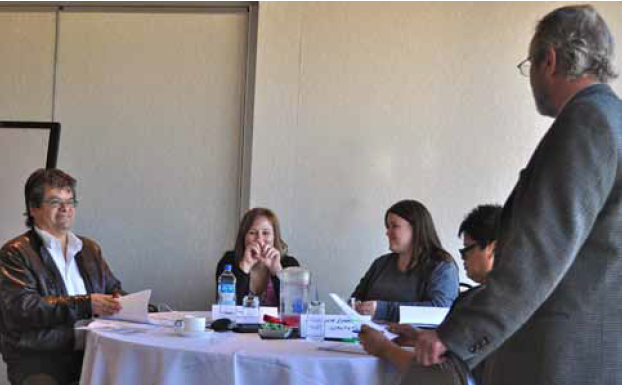 Some of the best examples of Naut'sa mawt (working together as one) have come at the workshops and other networking events that have been held over the years.
Whether it is governance, housing, comprehensive community planning or other topics, people find that getting together to share ideas and experiences in valuable in a number of ways. The most recent example of this exchange took place in December at a gathering of the housing networking team.
Housing, capital works and other staff from several Naut'sa mawt Tribal Council members, as well as guests from Cowichan and Penelakut nations, gathered for the daylong session in Vancouver.
At the top of the agenda was a presentation made by Rick Sabiston, senior capital advisor from Aboriginal Affairs and Northern Development Canada (AANDC). He spoke about the new approach to housing in the BC Region that is on tap in the coming year. "What we're doing here today could very well effect new national housing policies in next few years," Sabiston said.
The new approach was developed from a series of nation-to-nation dialogue sessions with AANDC during 2013 and will be rolled out during the coming year. "It is application based as opposed to the existing continual housing subsidy model," he said.
The new initiative will run concurrently with the old model over next two years and it will be assessed during that period. "We are trying to get First Nations to have a direct role in the applications rather than just hiring a consultant," Sabiston said.
The application will also be the basis for reporting to AANDC. He signaled out Malahat First Nation where new homes were built for about $100,000 each when he talked about "the creative discussions in alternative financing methods and alternative housing designs".
The new approach should provide flexibility for nations' housing along with a certainty of commitment from AANDC, Sabiston said. "Current subsidy programs push you into a box. The new program provides certainty."
The housing discussions held by AANDC has generated conversations that we've never had before," he said, adding that learning took place on all sides. Such as: • "As soon as council steps out of the picture, housing policies begin to work" and • "Success depends upon whether a nation sees housing as an asset or housing as a liability." "We are not trying to sell you on this new approach," Sabiston said. "It has to work for you." But he added, "The answers are here in this room".