No Comments
Cross-border treaty challenges pipeline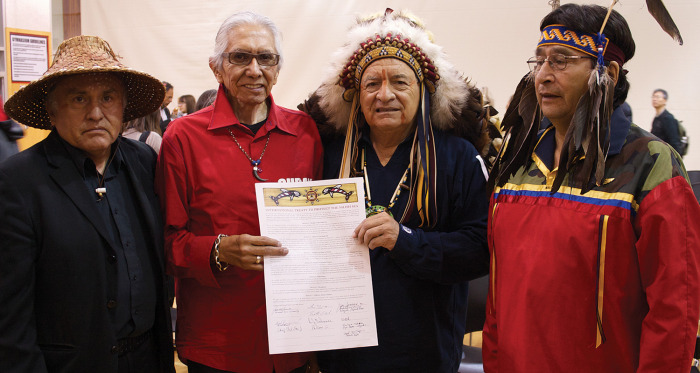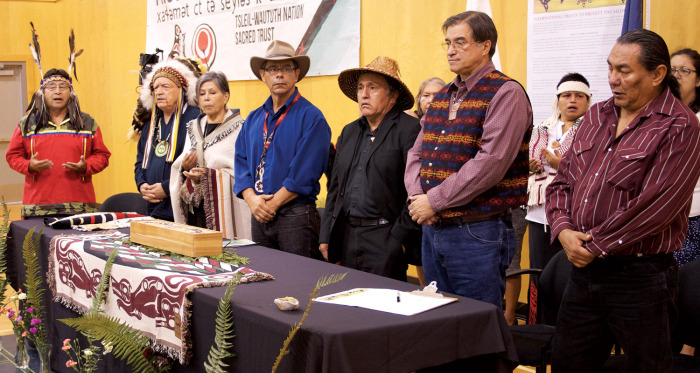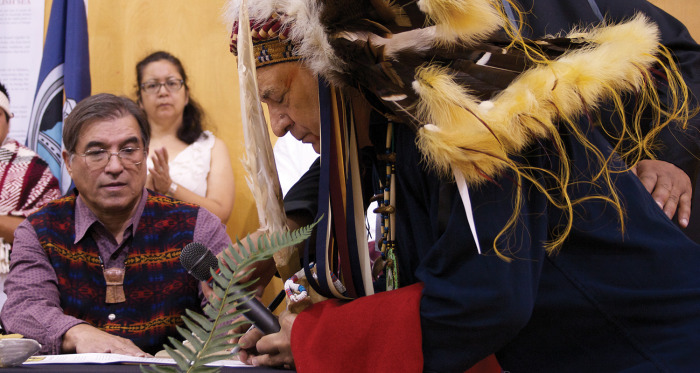 A new international treaty effectively makes Kinder Morgan's Trans Mountain pipeline expansion project illegal by Coast Salish law.
The International Treaty to Protect the Salish Sea was signed by 11 North American aboriginal leaders during a two-day gathering at Tsleil-Waututh First Nation on Sept. 21-22, 2014.
Signees included Tsleil-Waututh Chief Maureen Thomas, former TWN chief and spiritual leader Leonard George and Jewell James of Lummi First Nation's treaty protection office.
The signing followed a weekend of feasting, ceremony and private deliberations in the TWN community centre.
Eugene Kung of West Coast Environmental Law said the treaty sets out in 'unextinguished' Coast Salish law the reasons for protecting the Salish Sea from tar sands oil products and projects. "It talks about the connection to the sea itself and its importance to indigenous people of this area," he said.
"It makes the Trans Mountain project specifically illegal in Coast Salish law and opens it up to enforcement, again, in Coast Salish law." He said the treaty is noteworthy in light of the Supreme Court's Tsilhqot'in decision because the Crown's goalposts have moved past mere consultation with First Nations towards requiring consent.
One chief cited criminal acts against the environment as a groundbreaking treaty was signed at Tsleil-Waututh Nation.
Kung said he can imagine the treaty coming up in a Canadian or international court as a threat to Kinder Morgan's proposed pipeline expansion.
"In terms of Canadian law and Kinder Morgan's approach, this should not be ignored," he said. "It's a very serious, very far distance from consent."
Chief Darrell Bob of Xaxli'p First Nation near Lillooet, who also signed the treaty, said his nation offers its full support given the government and corporate world's "criminal acts" against the environment.
"We're in denial," he said. "We need to come together as a people to look after our Mother Earth. Without question, we have a duty and a responsibility."
Rueben George of Tsleil-Waututh Sacred Trust said the treaty will soon be "toured" to nations in order to gather more signees.
Healing pole touched by many hands

A seven-metre totem pole, carved by Jewell James of Lummi Nation, has been raised at Beaver Lake Cree Nation, 100 km northeast of Edmonton.
The raising took place after the pole traveled for about 8,000 kms, including a Sept. 1 stop at Tsleil-Waututh Nation, in protest of Kinder Morgan's Trans Mountain pipeline. The journey took about one month and made stops at First Nations fighting oil development around the West Coast.
The pole arrived at TWN on day 16 of the journey where another healing pole stands overlooking the terminus of the Trans Mountain pipeline on Burrard Inlet. James also carved the first pole.