No Comments
Salish Eye stays in focus despite pain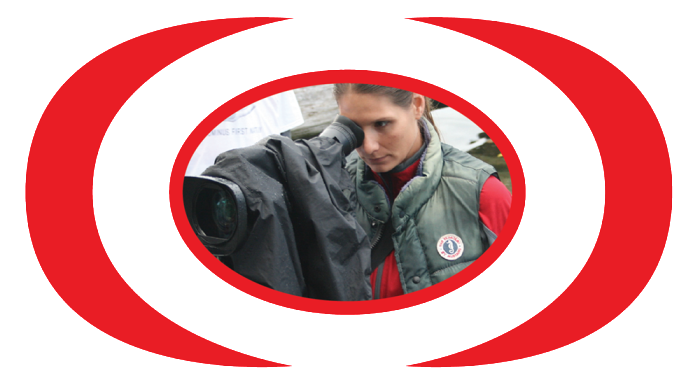 A traumatic injury laid Tricia Thomas low, but hasn't stopped her from looking at the big picture.
It happened in an instant. Last January, two days before the first big job for her new company, a car accident changed the life of Tricia Thomas.
She was returning from dropping a friend's child off at school and her car was t-boned by another vehicle, leaving her with serious muscle tissue injuries that have since rendered her unable to pick up a video camera or even her own children, who are two and four.
Almost immediately after her trauma, still in shock, Thomas sat down with her partner, Isaac Jack. He works with heavy equipment operator, but comes from a film background. He offered to help.
"I wasn't able to do it without him," she said. "It's been like that ever since. Every time there's a job, I'm not alone."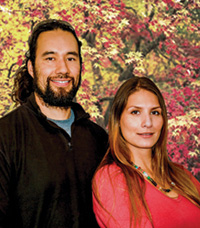 Since the accident in January, Salish Eye Productions – a Coast Salish photography, videography and design company – has thrived with the two of them working together. Jack is in charge of hauling and setting up camera equipment, while Thomas focuses on the creative side.
"With the challenge came an opportunity," Thomas said. "It forged a partnership in our work, where, if I hadn't been injured, I would have been trying to do this all on my own and it wouldn't be as much fun.
"Isaac already has experience in the field and we both have different personalities. We work together really well as a team and the people that hire us know that."
Thomas is from the Halalt First Nation, where Salish Eye is based, and Jack is from Penelakut. They live in Ladysmith.
The couple is both driven and good-humoured. They laugh about the fact that they could have started dating each other much sooner, but both wrongly assumed they were related in some way.
Together they have continually blown past obstacles with the aim to give Coast Salish people a voice through their work.
It all started as a hobby for Thomas, who always liked to hold a camera. She started making money when she was hired to produce a video of Tribal Journeys. The video she made was sent to several Vancouver Island universities and is now being used for educational purposes in First Nations studies classes.
In 2009, she went into business under a different name, but since broke off with her previous partner after the partner decided to work for the Kinder Morgan pipeline company fulltime.
"I wasn't really into it, so I started up Salish Eye Productions," Thomas said.
"We try to be clear on what we're about. It was a hobby that turned into the profession because the demand was there."
Thomas and Jack are currently working on indigenous cultural competency videos for the government, including one project that involves protocol on respectfully approaching elders.
"It's easier to talk to another First Nations person than to have, you know, CHEK News come in and interview you," Thomas observed.
"It's always easier to have someone you're familiar with. So, being that vehicle to help people be heard is kind of what we're working towards."
Jack said he enjoys the variety of being in a city filming one day, to being out on the water in a fishing boat the next, as well as constantly learning and connecting.
"It's a lot different to read words on paper, you can twist the meaning to understand it any which way you want," Jack said. "In video, you get to see facial expressions and where the emphasis is in what people are saying. You get to create the understanding of how that person wants it to be heard."
Both Jack and Thomas enjoy producing educational and political videos, but also aim to produce longer documentaries: "Because we believe there's a demand for them. And to tell those stories the way they're supposed to be told instead of someone from the outside looking in like, 'I think this is how it is.'"
Eventually Salish Eye hopes to have its own studio, but "Right now, with where we are, I'm kind of laying low," Thomas said.
"But we'd like to have a studio where we can have our doors open to people and offer a type of community service. People want to be heard."
More information about Salish Eye Productions along with samples of their work are available at www.salisheye.com.
PHOTO: Isaac Jack and Tricia Thomas