No Comments
Snuneymuxw Raises Hands in Pride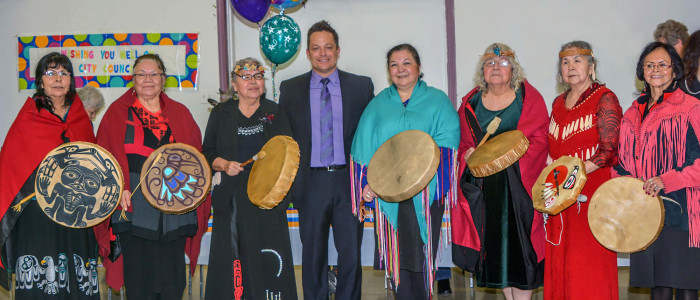 by Tricia Thomas
A celebration was held at Snuneymuxw First Nation longhouse recently to honour one of the community's leaders.
Tributes were paid to Sqwulutsutun Bill Yoachim in the blanketing ceremony not only for his election last November to the city council in Nanaimo, but for his inspiring leadership at the child and family services agency, Kw'umut Lelum.
In attendance were members of Snuneymuxw chief and council, Nanaimo's mayor and councillors and representatives from Vancouver Island University, the regional district and other organizations.
But it was perhaps foster children from the Kw'umut Lelum canoe family and Snuneymuxw members who best displayed the nation's pride and respect for Yoachim.
"I really want to thank Bill for all that he's done and showing us that we have a strong culture and we are beautiful in our own ways and that we can do anything that we set our minds to."
Those were the words of 17-year-old Jocelyn Antoine who has been in foster care since she was a toddler. Jocelyn said she was angry at the world, hated school and lied about her ancestry.
But then she met Yoachim a few years ago and was inspired. "Now, I'm proud to be native! I'm going to go to college and do something amazing that will change kids lives…
Other speakers gave their praise and appreciation. One Snuneymuxw person said: "The city is getting a man that is full of love, full of kindness and full of respect… He's making a big stepping-stone for our people in Snuneymuxw to bridge the gap between our people. It's showing our children that we can get along and do things to make it better for the community of Nanaimo at large."
Yoachim spoke last. He said: "You are my strength and my medicine as we make this city and territory a better place for all the years to come so our children won't have to sacrifice like our grandparents had to, but rather we can all create new strength together as one."