No Comments
A time of falling leaves and harvesting foods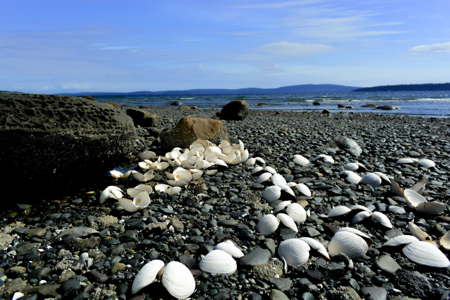 Words and photo by Tricia Thomas
September is always a busy month as we gather food for the winter. Salmon are coming home and the smokehouses are filling up.
But fall came early this year. Elders say that when the white flowers on the ironwood (ocean spray) turns brown, then the deer are fat.
This summer was so hot that the earth dried up and the leaves began turning brown in early August. Salmon were having a hard time coming home to spawn in rivers and creeks that had little water in them.
Both First Nations and commercial fisherman are reporting fewer sockeye this year. They said that the hot weather forced salmon to go deep and wait until the water gets colder before making their way to the rivers.
There was also a bigger threat to traditional diets this summer. The most massive red tides in history were measured with the dangerous algae blooms spread up to 64 kms wide and 200 metres deep from Alaska to California. Lasting up to two years in butter clams, the paralytic shellfish toxin has killed sea otters, seals, fish and even whales.
People need to be very careful and avoid eating shellfish (crabs, mussels, clams, etc.) and even small fish that were harvested along the coast in August. Cooking or freezing does not destroy paralytic shellfish toxin. The poison can cause damage to the nerves and brain, and is especially lethal to young children.