'It's a scandal:' activists highlight Kinder Morgan tank farm risks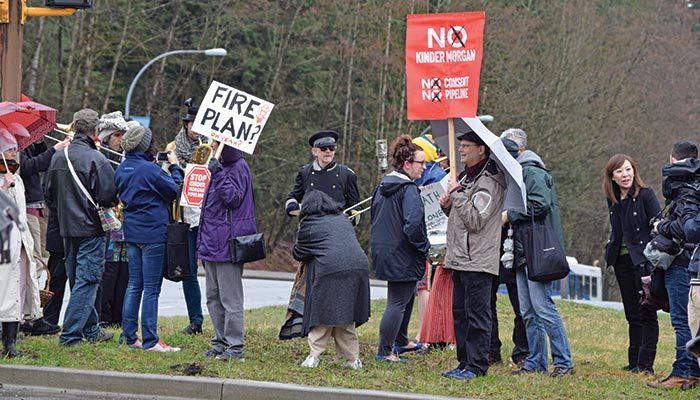 By Cara McKenna
Kinder Morgan's Trans Mountain pipeline expansion has drawn attention for its potential impacts around the environment, climate change and Indigenous rights.
But Andrew Larigakis of the climate action group 350Vancouver says one important risk has gone under the radar: the company's plan to expand its oil tank storage yard.
"(We want) to draw attention to the life, safety and health risks associated with the Kinder Morgan tank farm expansion," he said.
"This issue of life safety has been ignored, for the most part."
Larigakis was involved in a rally in Burnaby on March 24 beside the tank farm, which sits at the entrance to Simon Fraser University's main campus and above a residential neighbourhood.
Kinder Morgan plans to double the site's capacity to a total of 26 oil tanks – something residents, experts and city officials say could have devastating risks.
"So there's over 20,000 people here, and in the event of a fire, which the fire department says would easily escalate because of the proximity of the tanks, they're very close together," Larigakis said.
"People would be trapped on the mountain. There's no way they would all be able to evacuate."
The issue has recently been gaining momentum, with the rally and an event called TankTalks featuring Charlene Aleck of Tsleil-Waututh and SFU's chief safety officer Mark LaLonde among others in early April.
Burnaby's fire department released a risk assessment two years ago that said, if a fire were to happen, it would be faster and more intense, causing a massive urban evacuation.
It also pointed out the increased emission risks of toxic gases, including hydrogen sulfide, to people's health, and the risk to responders in an event of a fire.
Kinder Morgan representatives have said that that the Burnaby tank facility has been operating safely for 60 years.
Its risk assessment of the Trans Mountain expansion said the Major Industrial Accidents Council of Canada considers the new tanks to be an acceptable risk.
But Laragakis said Kinder Morgan's plan is lacking substance.
"It's really quite shocking that our government has approved this project in light of the independent reports, objection from the fire department, no real fire plan, no real scrutiny of seismic issues," he said. "It's a scandal, really."