'I will die for this land': Kinder Morgan opposition ramps up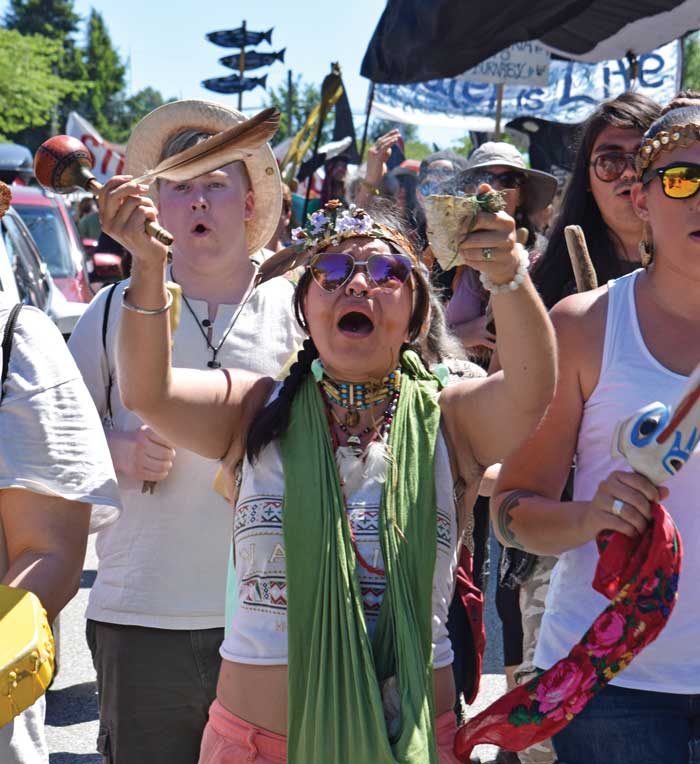 Photos and story by Cara McKenna
When it comes to the Kinder Morgan pipeline, "There's one thing that the government and all its representatives forgot," said Musqueam activist Audrey Siegl, speaking to a crowd of hundreds. "That we come from warriors."
Siegl and others rallied at the gates of Kinder Morgan's terminal in Burnaby at the end of a four-day walk against the company's Trans Mountain pipeline expansion.
The 75 km "Walk for the Salish Sea" involved journeying from Victoria to Tsleil-Waututh territory, with marchers joining in at stops along the way, between May 25 and 28.
Supporters included Green Party Leader Elizabeth May, Coldwater Chief Lee Spahan and Grand Chief Stewart Phillip of the Union of B.C. Indian Chiefs.
Tsleil-Waututh member Cedar George-Parker was emotional as he spoke about his family being impacted by Kinder Morgan.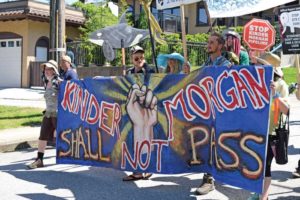 "I will fight for future generations, not by myself but I stand with my brothers and sisters here. We do not stand alone," he said. "I will die for my brothers and sisters; I will die for the land. It will not go through."
The $7.4 billion expansion is set to triple the capacity of Kinder Morgan's existing pipeline carrying Alberta oil to B.C., and increase tanker traffic by sevenfold in Tsleil-Waututh's backyard.
The project has already received provincial and federal approval, and Kinder Morgan has announced plans to start construction on the expansion this September.
But in May and June, campaigns against the pipeline ramped up, as B.C.'s NDP and Green Party announced a partnership agreement that included a vow to stop Kinder Morgan.
Tsleil-Waututh also warned potential investors about legal and political risks associated with the project before stocks started trading May 30.
The community's anti-pipeline initiative the Sacred Trust launched a new website includes a briefing report summarizing the legal risks of the project.
The report was sent out to a list of recipients including Canada's five major banks and eight major public pension funds.
Eugene Kung, a lawyer who works with the Sacred Trust, explained the legal brief discusses 19 current cases and adds detail and context to the risks disclosed by Kinder Morgan in their own documents.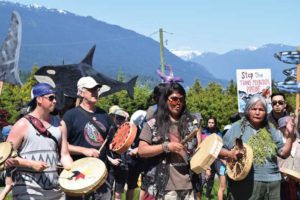 "People on Bay Street may not really understand just how red hot opposition is in B.C. or how strong the legal rights of First Nations communities can be," Kung said in a statement. "The message to potential investors is to be careful, this is not a smart investment."
The new website, kindermorganiporisks.ca, also includes a financial risk assessment and Tsleil-Waututh's own environmental assessment documents.
In mid-June, the nation also joined a group of 20 Indigenous and environmental groups that called on major banks to deny financing the pipeline.
Tsleil-Waututh Councillor and Sacred Trust spokesperson Charlene Aleck said even though the project has federal permits, it does not have consent from local First Nations or many others in B.C.
"We want to make it clear to anyone considering investing in this controversial project just how risky of an investment that would be," she said.