Walking two roads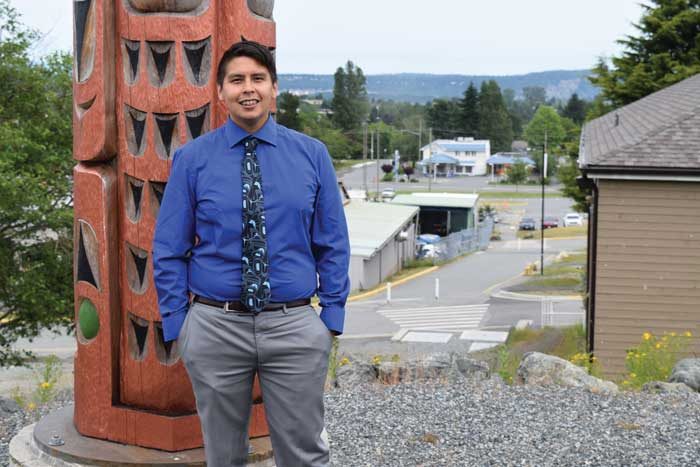 By Cara McKenna
Vancouver Island University seems nearly empty during a day in mid-June, shortly after classes wrapped up for the year.
When Troy Barnes arrives as the school's Shq'apthut gathering place, he's sharply dressed in a suit and tie, fresh from a job interview, and is stopped to be admired by one of the centre's directors.
"I'm not usually this dressed up," he explains when he sits down.
Barnes, 28, recently graduated from VIU with an Indigenous-only ceremony in April, where he was valedictorian. A larger grad ceremony took place earlier in June.
The member of Klahoose First Nation now holds a Bachelor of Arts degree with a major in First Nations studies and a minor in history.
"Right now I'm working with VIU as a program coordinator for a youth summer camp that we're hosting here in Nanaimo," he said. "All the logistics are kind of on my plate so its keeping me busy, Monday to Friday. That's what I'm doing for the summer."
The Thuy'she'num Tu Smun'eem youth summer camp for Grade 8 to 12 students is a pilot for the school and a passion project for Barnes.
"If there's a program vision for us, it's prepping these students for going into university, so its walking those two roads that our elders always talk about: the Western road and the cultural road," he said. "I guess for me as a program coordinator, it's being that mentor that I didn't have when I was a teenager."
Barnes explained that he didn't feel prepared when he first moved from his hometown of Powell River to Victoria to attend business school at Camosun College.
"I didn't do my homework on it; it was the first college I got accepted into and I wasn't mentally prepared for a course load," he said. "It was a rude awakening. I ended up failing after one semester and I started missing home so I dropped out."
On his way home, he stopped at VIU to talk to counsellor, and soon after enrolled in a bridging program for Indigenous students.
He started his degree in 2012, and after a few more bumps in the road, took a year of exploratory studies in Powell River where he said he got his stride back.
"It was the best decision I ever made because the class sizes were smaller there and I was able to get guidance from the teachers there," he said. "I really did find my voice and confidence during that year. I was not only able to attend every class, but I saw the benefits of just simple attendance and attention to detail."
The next year, Barnes moved to Nanaimo and discovered the Indigenous community at VIU through the 'Su'luqw'a' Community Cousins Indigenous mentorship program, which he joined in 2014.
"There are bi-weekly check ins where there's no structure to it really. One of the only things is whoever has the floor, has the floor," he said. "If you're succeeding we want to hear about it, but also if you're struggling. It's a safe place to talk about anything and I think that's the most integral part of it."
With the Community Cousins, Barnes learned public speaking skills, organized events on campus, and travelled to represent the school at several events.
During his years at VIU, he also started to connect back to his home community of Klahoose – Chief Kevin Peacey and two councillors travelled from Cortes Island to Nanaimo to attend Barnes's grad ceremony.
"I think I went to Klahoose only two or three times growing up. Now that my dad (Billy Barnes) is a councillor there, I find myself going more and finding my voice and my cultural values," he said. "It means a lot to me that I'm finding a place there, I'm finding a genuine connection to the land and to the people. Because for the longest time, that was a hole in my heart."
Now that Barnes has graduated, he's still working with some of his Community Cousins family to pass what they've learned on, through two four-day youth summer camps that will take place in August.
The high school students will stay in campus housing, and partake in various activities including daily blogging, getting information about financial aid and learning about the territory with elders.
"We have six of us that will be serving as program assistants and that will be with the students 24/7," Barnes said. "A lot of us Aboriginal students, we leave a community behind (when we go to university) and it's a lonely process. … I look back and I think if I could have done it when I was 14, I would have been more prepped."
The Thuy'she'num Tu Smun'eem camps are being funded for the next three years through a grant of more than $300,000 from the Peter Cundill Foundation.
For more information on the camps, Barnes can be contacted at Troy.Barnes@viu.ca.