Preparing for climate change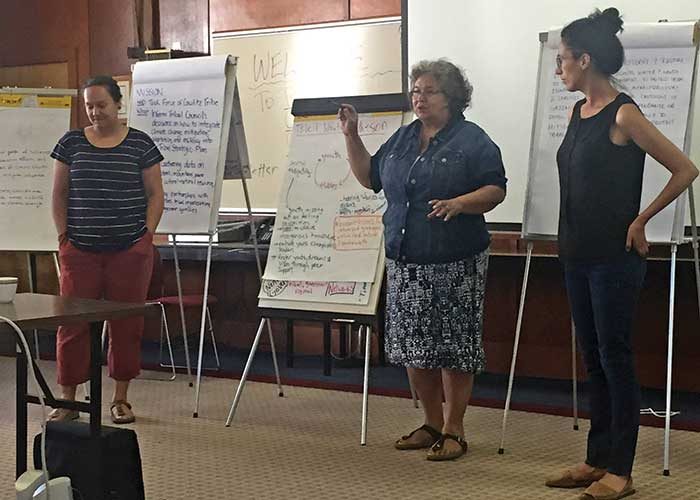 By Edith Moore, NmTC Communications Liaison
On the tip of everyone's tongue these days is the term "climate change" and I have to be honest: I was the person with my head in the sand on this issue. But now climate change is all around us, with the hurricanes, floods, and fires happening in recent months.
Upon an invitation from the Affiliated Tribes of Northwest Indians to the Naut'sa mawt Tribal Council, I was able to attend the Tribal Climate Change Camp along with Allan Planes (T'Sou-ke), Melanie Walker, and Carleen Thomas (Tsleil-Waututh). Attendees also included participants from all over the U.S. and as far as Indonesia.
The camp was set up to support teams of tribal leaders, climate change coordinators, planners, student interns, and program managers to build skills, gather information, and develop tribal policy needed to address climate change impacts.
The camp was held at the University of Washington's Pack Forest Conference Center in Eatonville, WA, on the territory of the Nisqually Indian Tribe.
We spent a week with some well-respected speakers learning how to assess and address the impacts in a realistic way. We worked on an outline for a comprehensive climate change strategy that we can continue to build on to develop a formal climate change plan for our Tribal Council. This very interactive, intensive camp opened our eyes to creating change for not only our own communities but also the world.
"The traditional way of life of indigenous people has contributed little to climate change, yet they are the most adversely affected by it" –Gina Cosentino/Indigenous Peoples Advisory Consultant, World Bank.
Let us be the leaders for change.
edithm@nautsamawt.com