'Ignorance is no accident': UBC apologizes to residential school survivors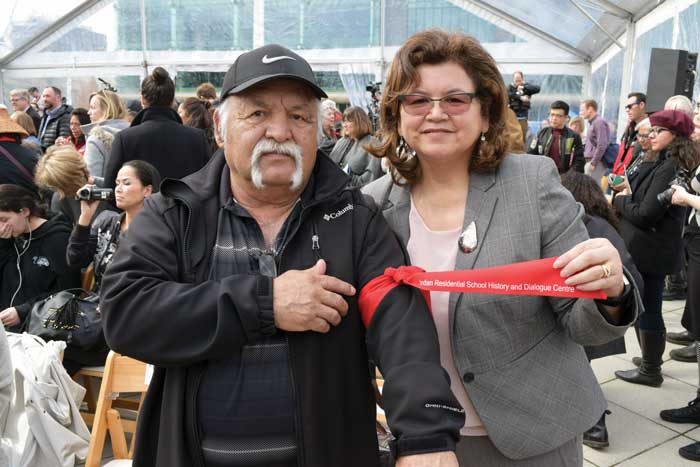 By Cara McKenna
The education system has perpetuated ignorance around residential schools and therefore must bear part of the responsibility for the damage inflicted on survivors and their families.
That was the message that guests heard at the opening of the new Indian Residential School History and Dialogue Centre at the University of British Columbia.
The centre, on UBC's main campus, will house West Coast residential school records and educate the public on what happened in the government-funded facilities where many were abused and punished for practicing their culture. Thousands of children died while in attendance.
During an opening event with hundreds of guests on April 9, UBC president Santa Ono apologized to survivors on behalf of the university.
"Universities bear part of the responsibility for this history, not only for having trained many of the policy makers and administrators who operated the residential school system, and doing so little to address the exclusion from higher education that the schools so effectively created, but also for tacitly accepting the silence surrounding it," Ono said. "Few Canadians are aware of this history or its lasting harmful effects. Their ignorance is no accident."
Ray Harris travelled from Stz'uminus First Nation to witness the event, donning a red armband to show that he is a residential school survivor.
Harris said he has relied on culture to heal from his trauma and usually avoids residential school-focused events in order to focus on that. But he believes the apology is an important step forward.
"Education was a tool they used against us," he said. "Here's the most prestigious education institute in B.C., taking this issue head on. I think it's very important."
Adina Williams, a UBC student from Squamish Nation, said she has seen firsthand the lack of teaching around residential schools throughout her educational journey.
"For me as an Indigenous student so often I've had to either be an expert on these topics or challenge another person who wants to argue that it's time for us to move on or to get over it," she said.
Williams, an intergenerational survivor of both residential schools and the 60s Scoop, added that while the apology is a step in the right direction, there is still a lot of work to do.
"I can attest to this from some very recent experiences I've had on campus and in classes and whatnot," she said to Ono. "So I ask you to continue this work from this day forward. I ask you to please stay true to your words and I really trust that you will."
UBC First Nations House of Learning Director Linc Kesler said the centre will aim to do ongoing work with Indigenous communities and organizations.
"The involvement and guidance of Indian residential school survivors and other Indigenous community members and organizations will be critical to the ongoing work of the centre," he said in a statement.
"We will also work with them to ensure that the centre represents the history of survivors in ways that are accurate and respectful."
The new $5.5 million dialogue centre, an affiliate site to the national Truth and Reconciliation research centre in Winnipeg, was funded through donations. It is now open to the public.
Ono's full apology can be read at https://president.ubc.ca/speeches/statement-of-apology.