Klah ah men: Tla'amin site renamed on Indigenous Peoples Day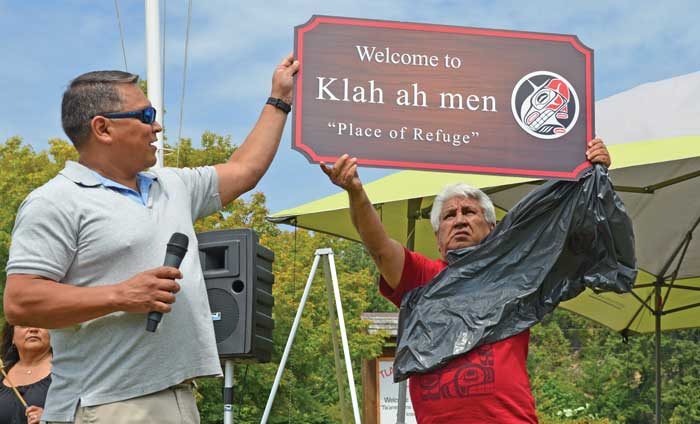 Story by Cara McKenna with files submitted by Hɛhɛwšɩn
Photos by Phil Russell
Tla'amin has officially reclaimed the traditional name for part of its territory after a special event held on National Indigenous Peoples Day.
Lund, B.C., was given back its original name of Klah ah men (ƛaʔamɛn) with a ceremony and sign unveiling on June 21.
Community members from Tla'amin and Lund gathered to celebrate the name change, which was announced by Hegus Clint Williams.
Klah ah men means "place of refuge" and was historically used as a safe place for canoe pullers.
Elder Elsie Paul explained during an earlier event at Klah ah men that the site was Tla'amin's
"pathway along the coast."
"This was shelter, this was a place to harbour in for our ancestors," she said.
John Louie (yaχwum) added that it's important to acknowledge Klah ah men's history.
Louie shared that he recalled coming to Klah ah men as a young boy with his grandmother to catch herring.
"The herring were huge back then, today they are small, and that's the impact," he said.
"We just need to respect what this place was and still is."
The official rename comes after Louie and other representatives from the Hɛhɛwšɩn initiative—Cyndi Pallen (čɩnɛ) and Phil Russell (kʷʊnanəm)—asked Tla'amin leadership to bring back the Klah ah men name.
Hɛhɛwšɩn, meaning "the way forward," is led by a group of Indigenous and non-Indigenous members who have been working to advance reconciliation in the community.