'You're pushing us forward': Water ceremony held at Tsleil-Waututh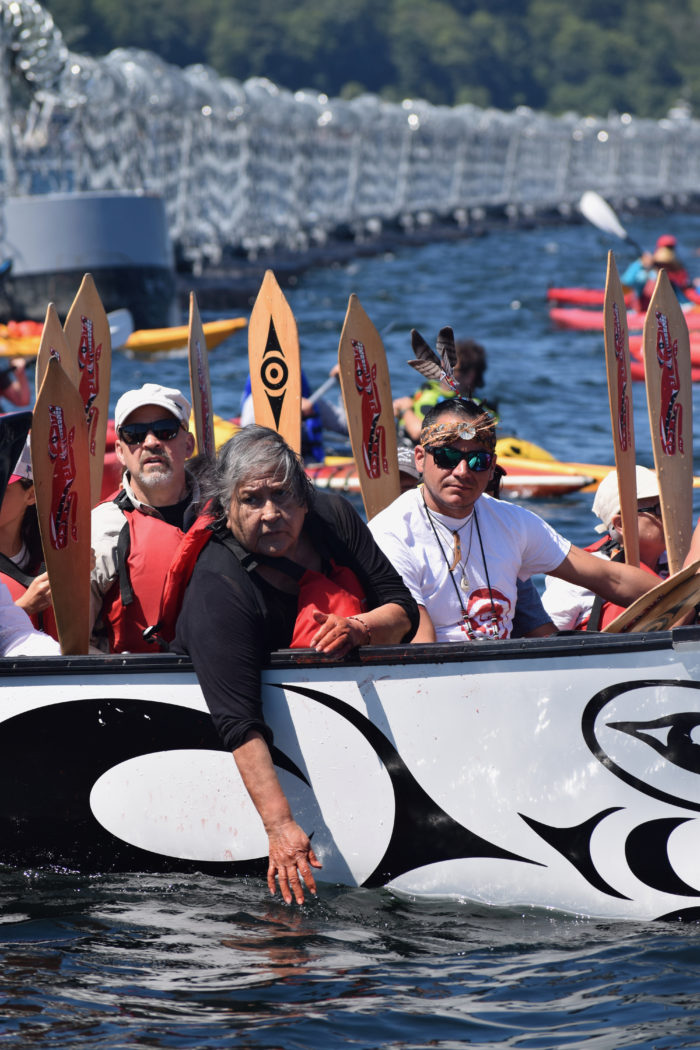 Above: Tsleil-Waututh Elder Amy George, left, and Protect the Inlet leader Will George (Swaysən) sat in the lead canoe during a water ceremony on July 14.
By Cara McKenna
More than 100 people in four canoes and 70 kayaks joined together in prayer during a water ceremony in Tsleil-Waututh's territory today.
The flotilla launched from Whey-ah-wichen (Cates Park) and travelled to the gates of the Westridge Marine Terminal, which is under construction as part of the Trans Mountain Pipeline expansion.
People in the vessels shared songs and offered medicines to the water outside of the terminal gates while a group supported from shore. Elder Amy George led the ceremony from a Tsleil-Waututh canoe.
Afterwards, the group came together for a gathering in the park that included speakers and a dance performance from the Coast Salish dance group Coastal Wolf Pack.
George said she is grateful for the display of support for her people as they aim to protect their unceded territory from oil.
"It's very taxing on us, and when I see groups like this, and when I see the kayaks beside us … you're pushing us forward," she said.
Ocean Hyland, a youth leader from Tsleil-Waututh, spoke of the importance of the water and her nation's creation story as People of the Inlet.
"I am a granddaughter of the inlet, I am a granddaughter of the river," she said in a statement.
"We gather together in ceremony and gratitude for what the earth has given us and to reciprocate by coming together to protect what is sacred, to protect our culture, lands, waters and all living beings."
During the event, the Coastal Wolf Pack dance group performed a Warrior Song in honour of land defenders and particularly Tsleil-Waututh member Will George (Swaysən).
Swaysən has been manning a Coast Salish watch house on Burnaby Mountain for many months and was recently one of a dozen people arrested after a more-than 35-hour aerial protest where several activists suspended themselves from the Ironworkers Memorial Bridge.
"Just having you here lets us know that we are doing the right thing," Swaysən told attendees at the flotilla event.
The Trans Mountain Pipeline expansion — which was recently bought by Canada from the Texas oil giant Kinder Morgan for $4.5 billion – threatens to increase tanker traffic in Tsleil-Waututh's backyard by sevenfold.
About 220 people have been arrested since March for demonstrating against the project, according to the anti-pipeline group Protect the Inlet.