2018 Malahat Golf & Gala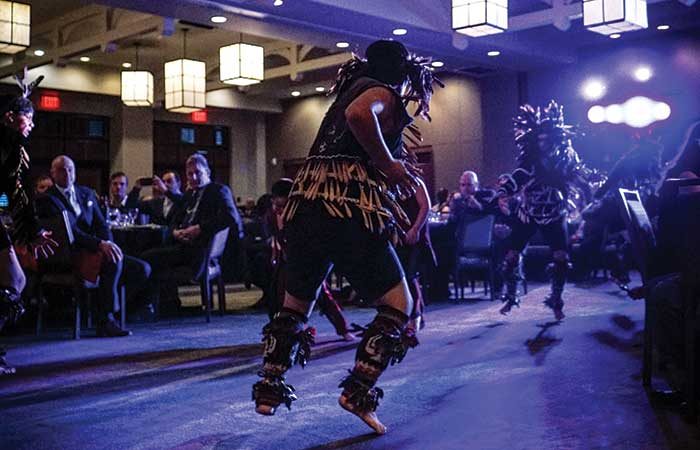 By Edith Moore, NmTC Communication Liaison
Photos by Barclay Martin
"Nourishing the Soul" was the theme for the Malahat Nation's sixth annual Golf & Gala fundraiser held on Sept. 15.
The nation was able to raise an impressive $316,000 through this year's event that will go towards building a commercial kitchen.
Malahat holds its Golf & Gala event annually as a way to raise money for needed services and facilities for the community.
Last year, the nation used the funds from the gala towards building multipurpose centre, and the new kitchen is being planned as an addition.
The hope is for the new kitchen to become the heart of the community, providing a place to gather, cook, celebrate and support one another. It will be the place to nourish the community and to build a strong connection between people.
Everything about the 2018 Golf & Gala was impressive, from the wonderful day spent on the course at the beautiful Westin Bear Mountain Golf Resort to the exquisite gala held in their banquet room. Honourable mention to the entertainers as well: the Khowutzun dancers, guest speaker Rich Francis, comedian Howie Miller and the Rhythm Method band.
I lift my hands up to the leadership and staff of the Malahat Nation for working together in such a seamless way. It shows how clear they see the vision of the community, "Recognizing the past—moving towards a better future," that is identified in their Community Plan.
This vision was demonstrated by having MC Ray Harris of Stz'uminus First Nation teach and guide the audience through the protocol of our Coast Salish people, to first be blanketed as the Speaker, and then to call on Witnesses for the momentous occasion.
There was an undeniable team effort to make this event such a success, and with strong leadership now moving ahead on the new kitchen, Malahat Nation will be nourished for years to come.