Developing future leaders: Coast Salish youth gather in Tla'amin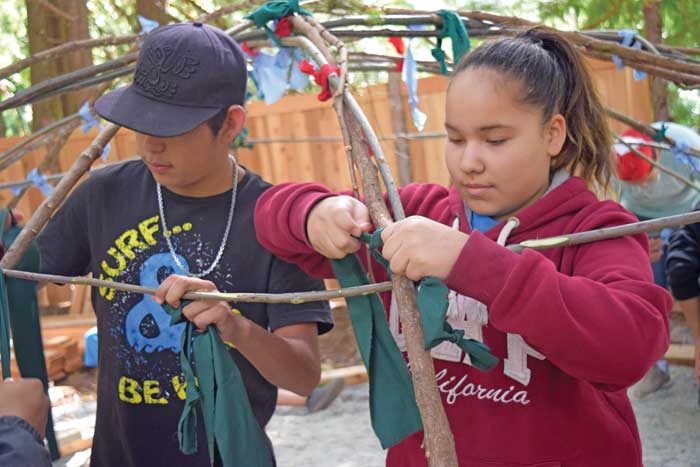 Photos and story by Cara McKenna
Several years ago, Lawrence Mitchell of Snaw-naw-as First Nation had a vision to give Coast Salish youth an opportunity to come together and learn about their culture.
This summer, he saw his idea realized for the second time at Naut'sa mawt Tribal Council's 2017 Youth Leadership Gathering.
The camp from Aug. 22 to 25 saw three dozen teenagers from the tribal council's 11 member nations come together to learn from their elders, have fun together and practice their culture.
Standing in the main hall of the outdoor learning centre in Tla'amin territory where the event was held, Mitchell expressed his gratitude.
"What we're doing here, it's very meaningful," he said. "It took me several years to fight for this event to happen, and I know it takes time, it takes resources, it takes people to come together and make this a success."
Mitchell said it is particularly meaningful to have seen the tribal council realize his idea of engaging youth because it was something he was never afforded himself as a child.
"I just started learning more and more about who I am … I'm 38 and I only started really tapping into it several years ago," he said. "Imagine how strong you're going to be if you start figuring this stuff out when you're younger. How strong of an adult you will be if you start grasping onto that language and learning the songs."
Activities that took place during the camp included drum-making, creating traditional art, making jam, ceremony and games.
Matthew Louie, a 13-year-old from Tla'amin, said he used to rarely see other kids from his nation participating in cultural activities, but now he sees that increasing.
"It's really cool to do this type of thing, and take part in culture. I'm really glad to see other kids here from my nation," he said. "I like to see people actually take part because if you don't take part, it's going to die."
Matthew has learned many teachings from his grandfather John Louie, who was at the camp showing groups of youth how to build a sweat lodge.
The elder Louie said now that the sweat lodge is built, he will continue to pass his knowledge on through programs with the local school district and beyond.
"So I'll be doing sweats here with the youth from the schools, I think there's five different groups that I'll be working with," he said. "I'll also work with different men's groups. It's all about sharing."
Valerie Cross-Blackett, camp planner and governance advisor with NmTC, said she is grateful to see that the youth camp is not only planting seeds of knowledge for future leaders, but resulting in other positive benefits such as the sweat lodge.
"I really appreciate the teachings that people are willing to share," she said. "We've got all kinds of people working together for one common goal."
Bronwen Geddes, who also planned the camp and works as a community planning advisor with NmTC, said each year has been a learning experience.
"Last year the youth said they loved the camp and they got a lot out of it, but they wanted it to be longer," she said. "It's a great way for the youth to get outside of their own home communities … and also for the youth to meet each other."
Next year, Geddes and Cross-Blackett will be looking for more sponsorship opportunities and take feedback from this year's gathering in order to keep improving.
In the meantime, the youth from this year's camp were left with the words of elders such as Tla'amin's Elsie Paul, who urged the teens to learn words in their Indigenous languages and to take time for self-reflection.
"We're tested all the time in what we do in this life," Paul said. "Don't ever feel defeated, don't ever feel like you can't do this or that. Take a deep breath, go somewhere, meditate, even if it's just to your room. Think about life, think about the blessings you have."

Cyndi Pallen of Tla'amin teaches a group of youth about making jam. The day prior, the youth harvested berries for the spread.
---
Leadership Gathering Through the youths' lens
Several loaner cameras were distributed to those participating in NmTC's 2017 Youth Leadership Gathering in Tla'amin. These photos were taken by various youth and youth leaders who picked up the cameras at the event. To see more photos, see the full issue on issuu.