Kinder Morgan fight reaches crucial moment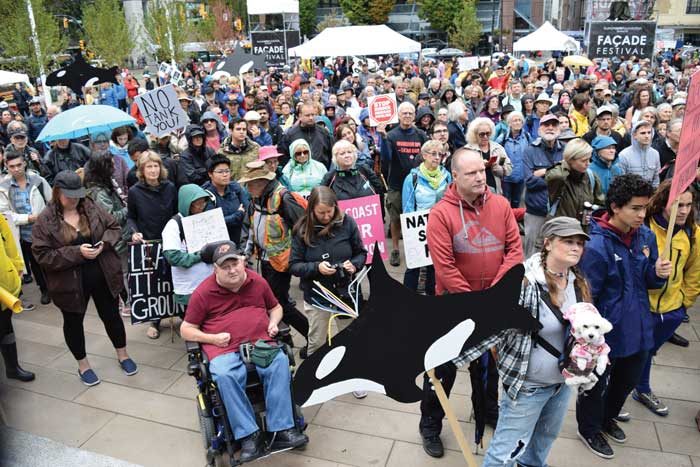 Story and photos by Cara McKenna
Hundreds of people opposed Kinder Morgan with renewed vigour on Sept. 9 as B.C.'s new NDP government has promised to do "whatever it takes" to stop the pipeline and support Indigenous rights.
First Nations communities along the pipeline route from Alberta to B.C. have continually said no to the project, including Tsleil-Waututh which is fighting against a sevenfold increase in tanker traffic in its backyard.
The fight has been a long and constant effort in the Vancouver area that's included other Indigenous communities, experts, the courts and residents.
But despite recent breakthroughs in the fight against the Trans Mountain pipeline expansion, the project still has approval by Canada and Alberta and the construction start date is looming.
During the "Kinder Morgan We Still Say No" rally in Vancouver organized by the group Climate Convergence, Burnaby South MP Kennedy Stewart was optimistic.
"Two bitter rivals, the Green Party and the NDP—let's call it what it is—have come together to help us stop Kinder Morgan," he said. "I can feel it in my bones that we're going to win."
Stewart said that he's going to keep challenging officials in the House of Commons as soon as he's back in Ottawa.
"I've made over 70 speeches against Kinder Morgan in the House of Commons, and we're going to keep it up," he promised.
Meanwhile, Musqueam Elder Shane Point talked about the importance of taking action for future generations.
"Canadian citizens, you need to take action and say 'we're going to start a class action suit against Kinder Morgan.' Nobody's said that yet," Point said. "Those of you out there who really want to take action, take action through the courts, otherwise (the federal government) isn't going to listen to you."
After a group marched from the Vancouver Art Gallery to Sunset Beach Park, Squamish Elder Linda Williams expressed her gratitude for those who are fighting.
"We are not only physically tied to the lands, we are also spiritually tied to the lands, and this is why our passion is so strong in protecting what is so precious to us and fighting for life," she said. "I'm very glad in my heart that all of us are taking a strong stand together, and fighting for what we believe in, fighting for what we have hope for, and taking a stand today."