Election another step for 'Mr. Positive'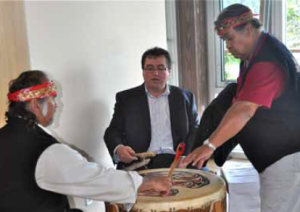 'Mr. Positive' – There are many things the leader of a small First Nation can be called, but the name often used to refer to the chief of Klahoose First Nation, James Delorme, is a pretty good one.He is starting his second term following the nation's vote for chief and council on Saturday, April 13.
The message he sent out on Twitter that evening shows a bit of his attitude. "A big effort by all the candidates at the Klahoose general election.
The next council is: Mavis Kok, Kathy Francis and Kevin Peacey. Yes!!!" The voting was really just for members of council.
Delorme had been acclaimed chief more than a month before when no one else was nominated to run against him. Not bad for a Cree kid whose people are from Cowessess First Nation in Saskatchewan.