Another journey begins for Leah
This morning (May 22), a long journey will end and another will begin for Leah George-Wilson of Tsleil-Waututh Nation.
Last night, she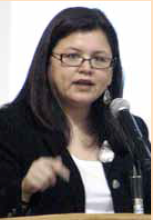 posted this message on Facebook: "Thinking about tomorrow because I'll be walking across the stage to accept my law degree!! – feeling excited at Tsleil-Waututh… where my ancestors are."
She explained that she had finished the degree at the University of BC's law school last December, but since there were no graduation ceremonies for the winter term, she had to wait until today.
"It kinda seems unreal because the stress from exams is long over. Of course, articling (training with a law firm) brings its own stress." Leah was the first female chief elected at Tsleil-Waututh in 2001.
She also won elections in 2005 and 2007 and returned to school after her unsuccessful 2009 campaign. She previously earned a bachelor degree in anthropology from Simon Fraser University.