No Comments
The Spirit of Wilson Bob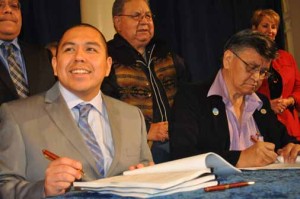 The spirit of Wilson Bob was in the room on Feb. 26 as the five Te'mexw treaty nations signed pre-treaty agreements for land with the BC government.
Each speaker from the nations honoured the achievements of the late Snaw-naw-as leader, saying that they would have liked him to see the results of 15 years of negotiations.
T'Souke, Scia'new, Songhees, Malahat and Snaw-naw-as each acquired parcels of land. Some were transferred immediately with others to follow when a treaty agreement-in-principle (AIP) is signed.
"He would have been very proud to be here today to see this happen," Chief David Bob said of Wilson Bob. Snaw-naw-as acquire two parcels – one 3 hectares and the other 3.4 hectares – that will be transferred in fee simple in three years.
Malahat acquired 64-hectares immediately and will get a 120-acre parcel next to the first upon signing the AIP. T'Sou-ke acquired 60 hectares on Broom Hill with another 60 hectares to come with the AIP.