No Comments
Housing on menu at Malahat Nation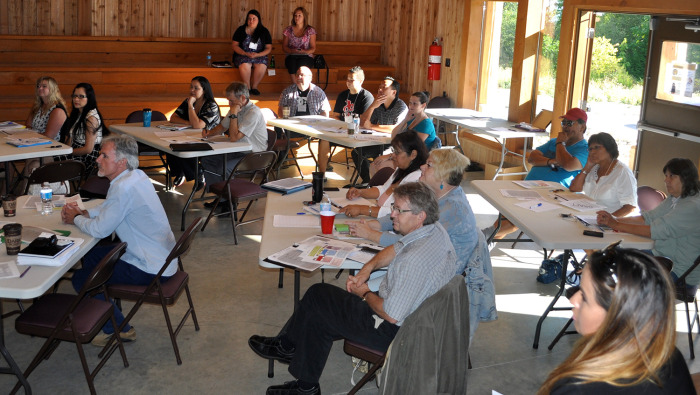 Malahat Nation hosted a one-day information session in early September on Aboriginal Affairs and Northern Development Canada's new approach to housing support.
The approach aims to align AANDC funding in a way that supports First Nations in developing and implementing long-term, viable housing strategies that reflect community needs. The session was facilitated by representatives of Naut'sa'mawt Tribal Council.
The current fiscal year is the first year for the new funding. Preparations are now underway for the 2015/16 fiscal year.
Later in the day, Lawrence Lewis, Malahat Nation's manager, talked about the nation's experience, challenges and successes with housing. Since 2012 Malahat has built ten new homes and the Kwunew Kwasen Cultural Center (where the info session was held). Along the way, it also reduced construction costs and provided training and capacity development through a partnership with Vancouver Island University.
Eric Blueschke, NmTC's housing policy advisor, also spoke about the tribal council's Housing Policy Development Tool-Kit. It is designed to provide a starting point for the comprehensive development or enhancement of on-
reserve rental housing documents.
More Toolkit info is available by visiting www.nautsamawt.org, clicking on the Resources tab and then Open-Source Policy Development Tools.
Pictured above: People from First Nations throughout Vancouver Island heard about housing matters