No Comments
A new team and a New Year at Homalco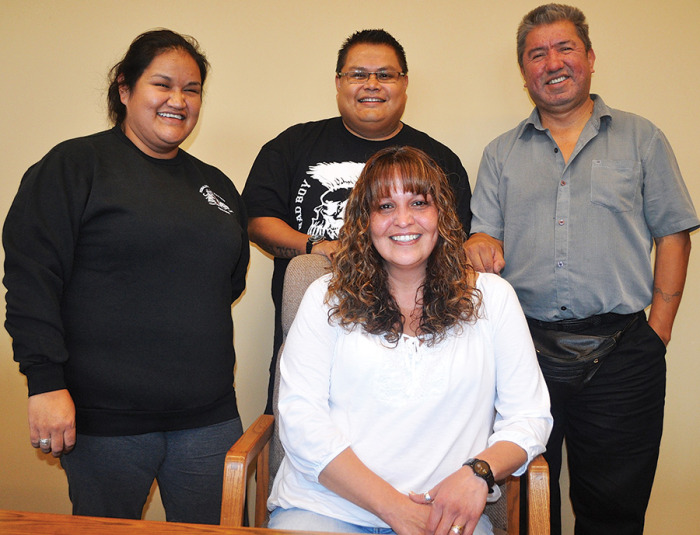 Laughter filled Homalco First Nation council chambers when The Sentinel visited in early November.
Gathered around the council table, it was just twelve days after Maryann Enevoldsen was elected the new chief. Alongside her were councillors including incumbent Darren Blaney and newcomers Dorothy Paul and Curtis Blaney.
As they spoke about the hard work that lay ahead, the weather outside seemed to sum up the leaders' task. There were high winds and driving rain. Then a rainbow appeared with a brief sun.
But the sun was shining inside the administration building as Curtis said: "I want this to be a good atmosphere for the whole community, come in for coffee.
tBefore it was quiet and nobody talked."
Dorothy agreed. "It is so light and airy now; a good positive atmosphere. It has been nice to see that change."
The need for change was the main reason Dorothy ran for council. "I've worked in just about every department here," she said. "And I just got sick of waiting for other people to change things. I thought why not throw myself in there and see what I can do to make a change."
In the weeks ahead, Homalco council will begin dealing with a variety of issues including forestry operations, housing, fisheries, health; no small matters for any First Nations council, but especially so for one with new faces and new roles.
"As soon as we get our house in order, the council is going to go away and get a vision statement together," the Chief Enevoldsen said. "We'll see how we work together as a team and put together a strategic plan. I think we can accomplish a lot in this term together."