No Comments
A heron's-eye view of cando for this Nester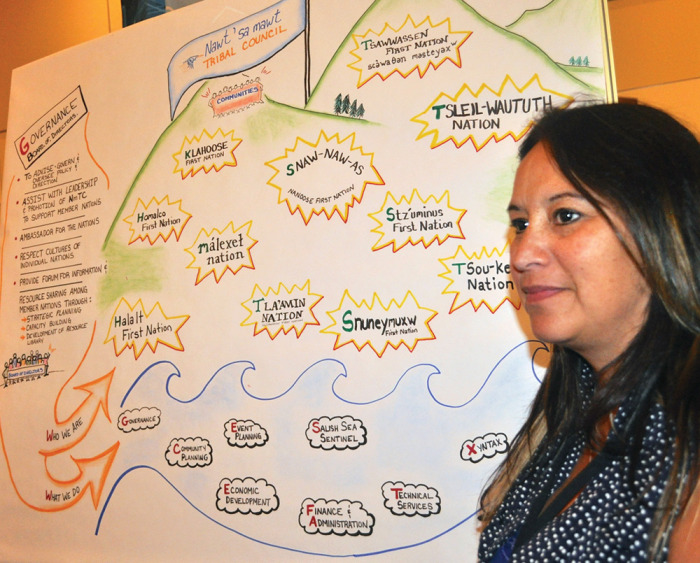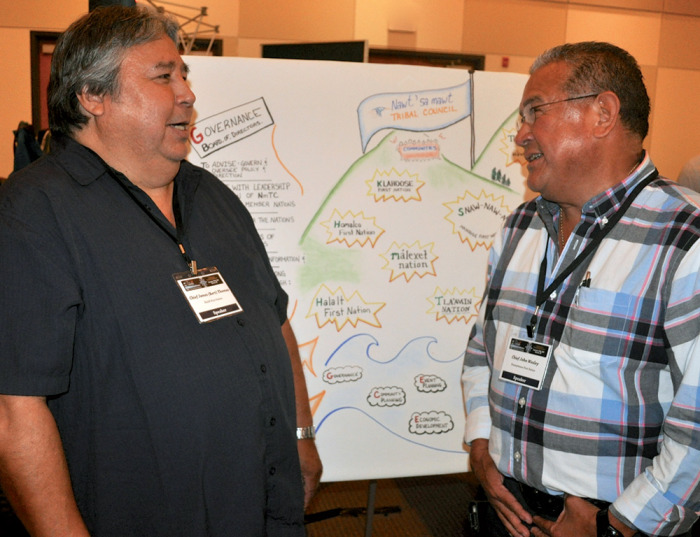 Patricia McDougall is one of the people in the Herons Nest, Naut'sa mast Tribal Council's grassroots economic development project. As a graphic recorder and facilitator, she participated in the recent CANDO event in Nanaimo and helped out at the NmTC booth at the conference's trade show. This is her report.
Aboriginal economic developers from all over Canada gathered to collaborate and share their knowledge, practices and stories at the CANDO conference. The three-day event was chock full of fun and informative events.
My role was three-fold: as a delegate, a participant in the Herons Nest and as member of Klahoose First Nation. It was fantastic how beautifully everything came together at this, NmTC's inaugural trade show. Our team coordinated a professional and informative booth for delegates to learn who NmTC is and what it does. Now, we just needed a banner.
Fortuitously, the Herons Nest coordinator suggested I showcase my work as a graphic facilitator by illustrating the framework of the organization that graphically shows delegates who and what NmTC is. This was a great way to showcase my work through images, colours, text and icons…a picture of NmTC.
One highlight for me was presenter Patrick Michell from the Kanaka Bar First Nation. He is a straight shooter who does not mince words. I loved how he was not afraid to use the word 'Indian'; we are who we are and it's important to be proud of it.
After his talk, I learned about his impressive credentials as a formal criminal lawyer. But I also saw his passion for empowerment and collaboration for his community members.
There is no room in his vocabulary for 'nepotism'. He expects everyone who works on projects to pull their own weight and if they don't he will not be there to fix it for them. He expects people to take responsibility for their own actions.
Youth were inspirational panelists, dedicated to their causes and passions. It was uplifting and evident throughout the room. There was the young man who already had two businesses at age 22, and the videographer who helps save other youth from risky lifestyles by helping them discover that arts will allow them to express their identities.
Another notable speaker was Chris Hartman from Tsawwassen First Nation who was a nominee for economic developer of the year. And there was Dr. Roslyn Kunin from Haida Enterprise Corporation, smart and bottom-line focused, yet full of heart and soul for the community she serves.
For me, as a participant in the Herons Nest initiative, I was left with a hankering for more. I did not want to leave, having just enjoyed three days of networking with like- minded professionals and being part of NmTC that was elevated in the way it operates as an organization.
Patricia operates her New Ways Consulting business from her home in Gold River. More info: newways.ca