No Comments
Changing the Face of Housing on Reserves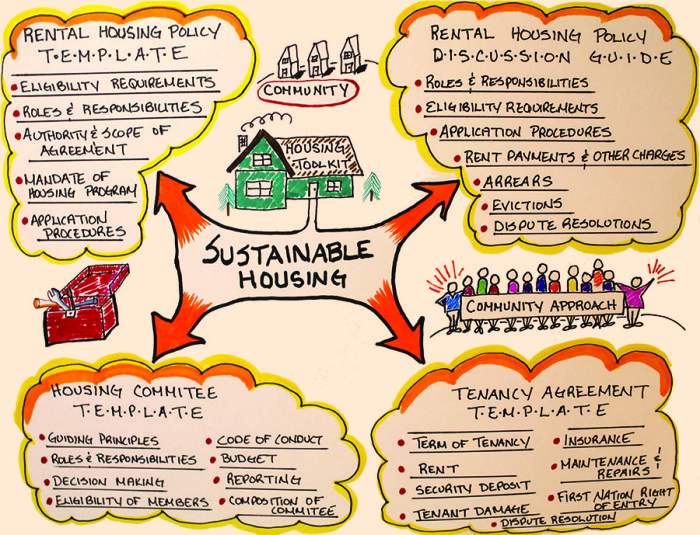 by Patricia McDougall
The Housing Policy Toolkit, launched earlier this year by Naut'sa mawt Tribal Council (NmTC), has been experiencing a stellar rollout across Canada.
There have been more than 40 requests for access to the Toolkit, from First Nations from BC to Ontario. What makes this Toolkit so attractive is its open source approach, which means the document can be tailored to suit individual nation's needs.
The project was funded by the special initiative fund through Aboriginal Affairs and Northern Development Canada and the New Relationship Trust. The initiative is now in the second of three phases.
The initial stage produced an informative packet on the importance of a community-wide approach to successful on-reserve rental housing programs. Phase II produced the Toolkit with its open-source templates. Phase III will include fillable on-line forms for rent-to-own housing on reserve. It will also include workshops for housing managers as well as chiefs and councils to learn how to effectively make the most of the templates.
What's in the Toolkit?
Four information-packed templates are included:
Rental housing policy template;
along with
Rental housing policy discussion guide
Residential tenancy agreement template
Housing committee terms of reference template
These are not just any templates. Eric Blueschke, NmTC's housing policy advisor, conducted lengthy research and says the Toolkit is built on First Nation models and is tailored to incorporate nation-specific practices and governance.
How can a community-wide approach assist your First Nation in improving rental-housing programs? By creating successful community-wide rental housing programs with the assistance of the Toolkit.
Paying rent is a key element to improving housing on reserves. This results in improved living conditions and broader means to invest in housing for First Nations.
Among the benefits of rent is the ability for nations to renovate, maintain and improve housing. A community-wide approach requires commitment by membership, housing staff and leadership, working together as a cohesive group to improve and maintain a sustainable housing program.
Good governance, community engagement and the well-being of a community incorporated into the Toolkit model makes economic sense that can bring about change for future generations.
To request a toolkit or seek more information, contact: Eric Blueschke at 250-380-8762 or at eric@blueschke.ca