No Comments
Decades-old knowledge combined with new technology at Klahoose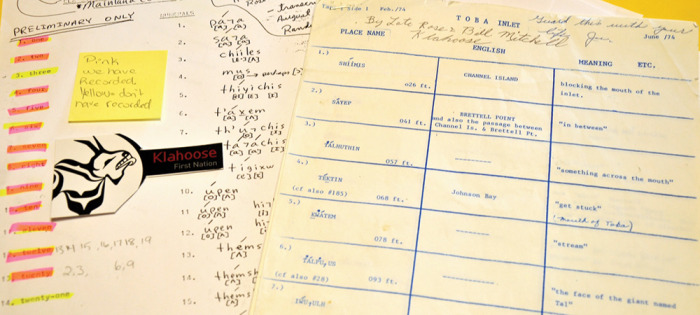 An expanded T'oq Kimuq language app and Salishan dictionary will be assets to the next generation.
In 1974, the late Joe Mitchell penned a message to Klahoose members in one of two booklets containing over 2000 words, place names and phrases in his native language: "Guard this with your life."
Over four decades ago, Mitchell's father, fluent T'oq Kimuq speaker Bill Mitchell, recorded the Klahoose language into booklets with his wife Rose and translator Randy Bouchard. For many years, their recordings have been in language coordinator Jessie Louie's collection.
Now, Louie has obtained a grant from the First Peoples' Cultural Council to record 1,000 T'oq Kimuq words and 1,000 phrases into the FirstVoices indigenous language app, adding to 849 existing words and phrases.
The app's ingenuity is a shining example of blending the old ways with the new, allowing anyone with a smartphone or tablet to easily read and hear words and phrases in various indigenous languages.
One of the booklets at Louie's disposal mostly consists of place names along the coast of Klahoose traditional territory and has some intriguing details of origin. For example, at the beginning of Toba Inlet, Brem River, translated means, "getting humpback salmon."
There are some handwritten notes on the booklets from translator Bouchard, as well as Mitchell and his son. Bouchard's note read: "This is specifically the Tl' ú hus (Klahoose with old style orthography) dialect of mainland Comox, but it is not that distinct from the xwúmalhkwa (Homalco) and lhá7 amin (Tla'amin) dialects, as far as I have been able to determine, to date."
"We have the words, now we just need the speakers," Louie said. "It's a challenge, but it's a good challenge. It's carrying on and moving forward. We have a big job ahead of us."
One of her tasks will be be transferring all the words from the old style orthography to the new style. Afterwards, the mission will be to track down fluent speakers from Klahoose, and record them saying each word and describe the meanings. Fluent speakers are harder and harder to come by. They are moving on or moving away.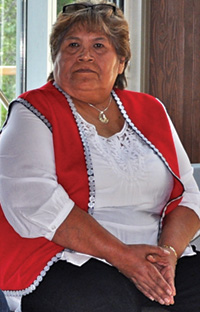 Not only is Klahoose adding more words to the First Voices app, but it is also in the process of creating a a Coast Salishian dictionary of the Comox dialect with Tla'amin (Sliammon). Currently Tla'amin has 3,668 words and 2,466 phrases. Klahoose has 544 words and 305 phrases. If Homalco got involved, a 'super-dictionary' could be created.
Alex Wadsworth, one of the developers of FirstVoices, said linguists from the University of Victoria will also soon be partnering on the project to provide support.
Thanks to this grant, Klahoose is looking forward to preserving its language, which in turn is going to be an asset to the next generation.
PHOTO: Language coordinator Jessie Louie