No Comments
One Heart • One Mind • One Nation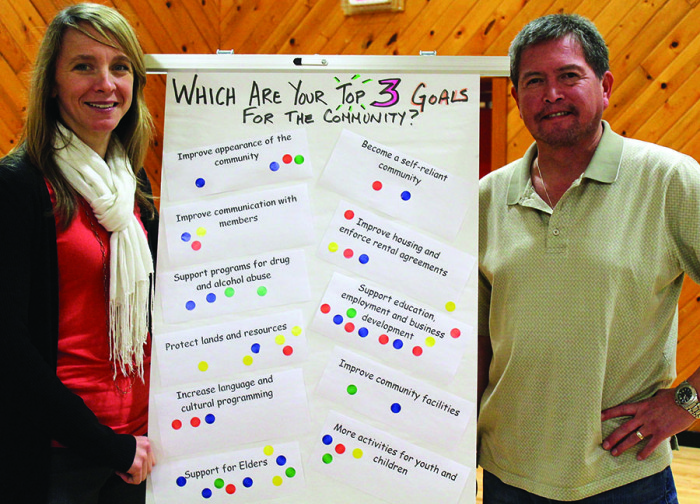 by Patricia McDougall
Uniting the community was an underlying theme when the Tla'amin open house was held at the Salish Centre in Sliammon in mid-November.
The Salish Center was full of information booths for the nation's members to see what programs and services currently being offered through their community organizations. At noon, when the doors opened, the center was already abuzz with members and staff alike talking about services available to the nation.
First stop on the circuit was the housing department's booth where Paula Stewart, tenant relations manager, showed visitors the range of services offered, from a rental housing template to an overview of proposed expansions.
Grace Adams, who works in the treaty department, steered me towards the comprehensive community planning (CCP) booth where Steve Gallagher was set up along with Bronwen Geddes, the community planning advisor from Naut'sa mawt Tribal Council. They had an interactive chart with various community goals where members could choose their top three items using colour-coded stickers. Although Sliammon adopted its CCP in 2007,
updating is now underway.
The set-up and variety of booths was impressive, displaying to membership the comprehensive departments and areas of services available. Among them were: lands and taxation; emergency services; the language project; treaty; fisheries; and capital projects. Also on display were the plans for the nation's new governance building.
Chief Clint Williams opened the event by welcoming everyone and highlighting the future plans of the community.
Community engagement and information sharing is crucial to leadership and the community as they enter the new era of treaty. Holding the open house was one of the many initiatives to engage and dialogue with membership…and of course sharing a meal.