No Comments
Youth take on traditional foods challenge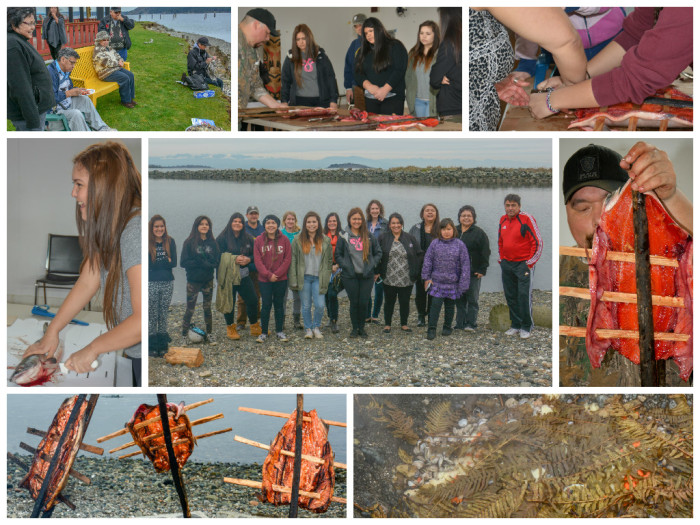 Words and photos by Tricia Thomas
Snaw-naw-as and Homalco communities challenged their youth to learn about the traditional foods of their ancestors. And youth responded when the first part of the challenge took place on the shores of Nanoose Bay in early March.
Three weeks later, the challenge was revived at Homalco as the young people continued to identify, collect, prepare and, of course, eat.
"Learning how to survive though traditional food knowledge will stay with you for the rest of your life," Snaw-naw-as elder Doreen Sport said as she shared her teachings about how food from the land has nourished us throughout time.
Christopher Bob demonstrated how to cut and prepare salmon for roasting over the fire using cedar and ironwood, while his nephews, Walker and Damion, prepared a pit cook for clams and oysters at the beach.
After the demonstration, youth were challenged to pick up a fillet knife and prepare salmon for the fire on their own. They worked together in groups and were observed by elders Doreen Edwards, Annie and Jim Bob and Barbara Barltrop. The groups were presented awards for their efforts.
Everyone walked to the bay with their prepared fish where Christopher continued to show the youth how to cook the salmon over the fire. He talked about how to prepare the fire and described some cooking techniques:
"It's important to cook the fish on the meat-side first, so the meat doesn't fall off the bones," he said. "Sometimes people like to put drip pans below the fish to collect the oils as they cook."
When the pit cook was ready, clams, oysters, carrots and potatoes were wrapped in salal and ferns and roasted underground. The result? Delicious!
The second part of the challenge took place in Homalco territory on March 21. Youth participated in the Walk Away From Racism in the morning and enjoyed a traditional seafood lunch. Later they participated in sports skills testing and painting paddles with Homalco councillor Darren Blaney. The day ended with youth presentations on their knowledge of traditional foods.
The Inter Tribal Health Authority project aims to help youth increase their knowledge of our traditional diets in order to create a healthier and more self-reliant future. Snaw-naw-as community health representative Donna Edwards facilitated the first challenge event.