No Comments
Éy7á7juuthem: Revitalizing a Language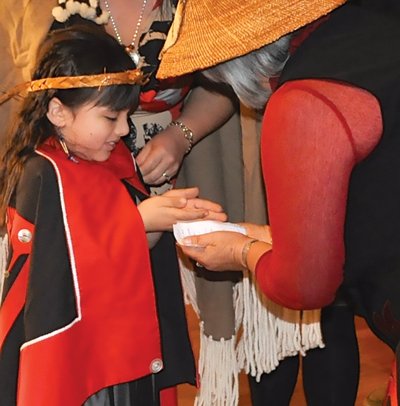 by Tricia Thomas
Without the language, we are warm bodies without a spirit. – Mary Lou Fox, Ojibwe elder
Language is the foundation for our way of life; it is an integral part of our cultural expression.
Throughout time, Aboriginal peoples have passed down traditions and teachings through storytelling and oral history. Over the past two centuries, many languages have been threatened or lost due to the effects of assimilation, reducing the number of fluent speakers.
The Island Comox language is one of those that became extinct. The last elder who spoke this dialect of Coast Salishan language passed away in the 1970s. However, around that time, the Sliammon community pushed to preserve their Mainland Comox dialect, which was spoken by the Sliammon (ɬaʔaʔmɛn), K'omoks, Klahoose and Homalco nations.
Betty Wilson and Sue Pielle began teaching the language in the Sliammon preschool and daycare, believing that learning the language at an early age would help to revive it. They went on to form a Sliammon Language Club and convinced the school district to incorporate the language into the school system, which it has for over 15 years.
Then the internet became another learning ground. First Voices was launched in 2003, funded through a grant from Canadian Heritage's Aboriginal Peoples' program. The firstvoices.com site offers tools and services designed to support language archiving, teaching and culture revitalization.
So far, 4,407 words and 3,348 phrases of the Sliammon language have been recorded on the First Voices site. Betty Wilson, who is part of the team, said linguists believe at least 20,000 words and phrases need to be preserved to save a language.
"Our history is really important," said Wilson. "Who we are… that knowledge comes from the elders. Using the old words is important so we know who we are."
The project to save Tla'Amin (Sliammon) First Nation's language has the added benefit of bringing elders and young people together. As elders contribute their knowledge of the language, young people learn new words from them and develop a deeper understanding of their culture and history.