No Comments
Tribal Canoe Journey 2015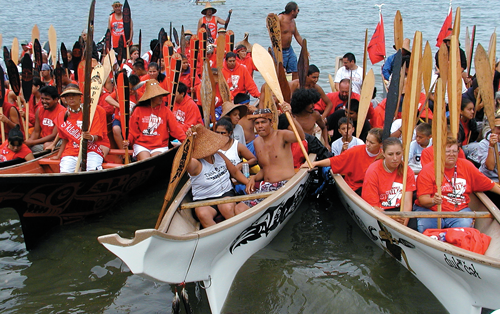 Canoes will fill the shores at Powell River on July 17–19 as Sliammon First Nation hosts paddlers from around the Salish Sea coast.
With the theme Honouring Our Youth—Our Chu'-Chuy, the Sliammon event will include songs, dancing, feasts, and traditional ceremonies that honour Coast Salish ancestors and the children of our future.
The Willingdon Beach site offers camping, room for the ceremonies and celebrations as well as stalls for arts, crafts and food vendors. Festivities are alcohol-free and drug-free.
Meanwhile, three other nations will host smaller gatherings this summer instead of one large Tribal Journey. They include: Ahousaht off the west coast of Vancouver Island; Lower Elwha Klallam Tribe (near Port Angeles); and Semiahmoo (Surrey).
Sliammon organizer Calvin Harry said people are working hard to ensure that canoe families register before the July 10 deadline. "If canoe families and vendors are interested in attending, please don't hesitate to contact our team."
Visit sliammontribalcanoejourney.com or contact the
appropriate committee member:
Canoe families, Sherman Pallen at 604-223-1711
Food/art vendors, Dawn Pallen at 604-483-2145
Public relations, Billy Barnes at 604-483-1344
Protocol/scheduling, Calvin Harry at 604-761-1106
or Cyndi Pallen at 604-414-3874