No Comments
Our Elders Gather in Tsawout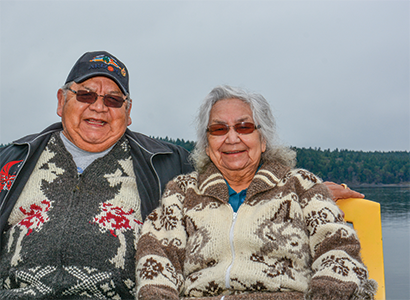 By Tricia Thomas
Our elders are our treasured teachers. We are fortunate to be able to learn from them and honour them.
Great examples include Anne and Jim Bob from Snaw-naw-as who celebrated their 50th wedding anniversary on March 20. Thank you for being our role models.
Then there's Esther Harry, Malahat Nation's eldest member who turned 86, also on March 20. Her community held a large celebration for her at the Kwunew Kwasun cultural centre. Happy birthday, Esther!
The 39th annual Elders Gathering will be held July 7–9 in Tsawout First Nation territory. It was started to honour and give thanks to our elders and support them in reconnecting with their peers from across BC and as far away as Alberta, the Yukon and Washington State.
This year's event will be held primarily at the Panorama Leisure Centre on the Saanich Peninsula. Up to 5,000 elders and other visitors are expected. Youth are involved in all aspects of the festivities.
Transportation assistance is available for elders to take part. Applications must be received at the BC Association of Aboriginal Friendship Centres office by June 5.
More information is at www.bcelders2015.ca or email elders2015@tsawout.ca