No Comments
TFN farm school sowing seeds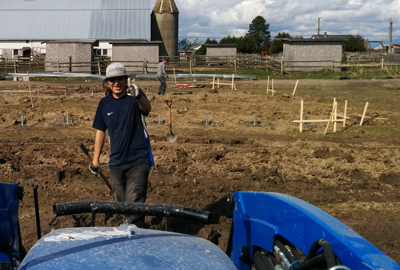 by Tricia Thomas
It was a groundbreaking venture in April when the greenhouse went up and seeds were planted for the unique Tsawwassen First Nation Farm School.
The collaboration between the nation and the Institute for Sustainable Food Systems at Kwantlen Polytechnic University is a ten-month training program that covers the science and business of farming plus perspectives on indigenous food systems.
"TFN has been working hard to create a strong and sustainable community for our members and future generations," said Chief Bryce Williams. "All our developments work together to support our vision of local food production, job creation and stewardship of farmland resources."
Located on traditional Tsawwassen lands, the 20-acre farm school site will support market crops, small livestock and organic practices. Long-term plans include a traditional medicine garden and food forest, orchards, organic market garden, as well as incubator plots for graduates to continue honing their skills.