One Comment
Jessie champions a sober life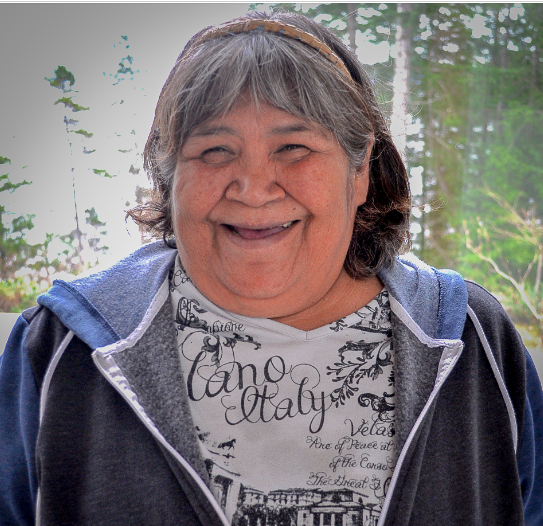 Jessie Louie says she has a whole new feeling about herself. Sitting in her office overlooking Squirrel Cove, the Klahoose First Nation alcohol and drug counselor is quietly celebrating. She is just back from a month-long stay at the Tsow-Tun Le Lum centre at Snaw-naw-as nation. The Kwunatsustul, which means 'holding hands, standing together', trauma program was good for Jessie at this time in her life.
Almost as good as celebrating her 12th year of sobriety. "I was sober, yes, but staring to feel empty inside and lost," she says of months past that saw a nephew die of alcoholism ("horrible"), the death her sister in December and then, the last straw. "My auntie passed away. She was my mentor and sounding board. That's when I knew I needed help."
Jessie says Kwunatsustul "helped give me strength moving forward". And she knows all about that… both moving forward and getting help. Like back in the 1970s when Jessie ran for election as Klahoose chief.
The 23-year-old won by a single vote and began to see what it was like to be her nation's first woman leader, in a man's world of governance in both the native and non-native worlds. "I was as green as could be," she says, adding that she asked herself, "Now what am I going to do? I just had to try to get the hang of it."
There was no help from the former chief. "When I went to the first chiefs' meeting in Vancouver, it was all men looking at me like, 'What are you doing here?' But that just made me more stubborn, making sure I was going to make it. "It wasn't easy. There wasn't much help from anyone.
But Clarence Joe of Sechelt helped me a lot, explaining stuff I needed to be doing." Cortes Island was a different place then. There were no ferries and no telephones. Jessie's proudest memory is getting the first water system built for the Klahoose community.
After one term as chief, Jessie began to drink more heavily. In her 30s, she went to a treatment facility in Nimpkish, but relapsed. In the 1990s, she went to an all-women's centre in Vancouver, but again relapsed after seven months. "I knew I had to leave the community, get away from drinking. You need to admit you need help. It can't be forced."
Finally, after many efforts, Jessie made it to sobriety. "I can remember my last hangover to the day," she says. "I needed a mickey to get on the ferry, saw a crisis nurse and went into detox in Campbell River for six weeks and then two weeks at Tsow-Tun Le Lum." Her face lights up when she remembers, "I was able to come home.
It took two years for the community to see I maintained sobriety. I stayed away 20 years and came home in 1999 to earn the trust of my community." Since then, Jessie has served three terms on council and, since 2007, has been the alcohol and drugs worker, as well as language coordinator.
"I don't have a certificate," she says of her work as drugs and alcohol counselor. "But I have lots of experience."