Malahat on new tack as it weathers an LNG storm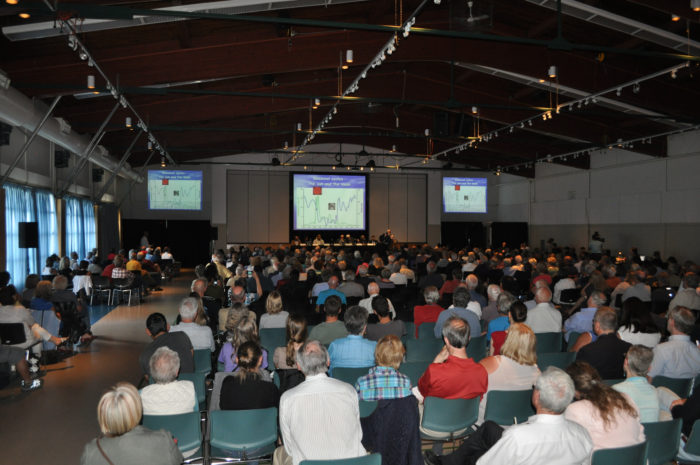 Words and photos by Mark Kiemele
There was standing-room only at a town hall meeting on the Malahat LNG project, hosted by the District of North Saanich on May 31.
But while the crowd was often raucous in their opposition to the proposed facility for Saanich Inlet, attendees listened respectfully as Renee Racette, Malahat Nation's chief executive, outlined why the nation had become involved in the project.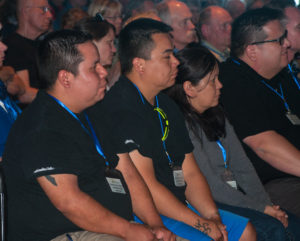 With Chief Caroline Harry and councillors George Harry, Matthew Harry and Vincent Harry listening intently, Racette gave the crowd a course in Malahat 101. She talked about the E&N Railway land grab almost 150 years ago, which she called a "mass privatization," and the small Malahat reserve land allocation, both of which impact the nation today.
She spoke of the "fierce disparity" between Malahat and its neighbours in Mill Bay in terms of housing quality and values, the lack of basic services and the challenges of economic opportunities.
"Given… the need to find solutions, the Malahat Nation sought out some creative options for their community," Racette said. She added that the nation "experiences severe poverty. They have endured years of oppressive laws and policies completely unlike other Canadians," such as schools, housing, street lighting, emergency services, training and employment.
"If you go 15 feet off the land, you'll find extreme wealth…This is not okay," Racette said. "This is not going to continue."
She outlined how the adjacent Bamberton industrial lands were purchased with the help of the First Nations Finance Authority and spoke about policies such as property taxation, the land code and a comprehensive community plan.
As Malahat enters its engagement with Steelhead LNG, Racette said the nation "brings a critical approach… We have so much learning ahead of us and we are asking a thousand questions."
Consultation with the WSANEC nations on the Saanich Peninsula and other southern Vancouver Island communities started more than a year before environmental applications will be submitted, Racette said.
But she admitted that: "We have not done a stellar job of meeting protocols with neighbouring First Nations… We hope we can address this and repair these relationships with our neighbours."
New process begins
Councillor George Harry described a restart of the process of informing both Malahat members and neighbouring nations when he was interviewed recently by Business in Vancouver magazine.
"We started a whole new process with [Steelhead]," he said, describing what occurred when a new chief and council were elected late in 2015.
"We came in and said, 'No, you've got to start all over again. We're going to educate these people about what a natural gas facility is like, what it will be producing and what it's going to look like.'
"We were glad [Steelhead] didn't mind. We not only started learning about it, we wanted our nation itself to learn about it. You have to have all of your people behind you to agree to something."