Finding a new way forward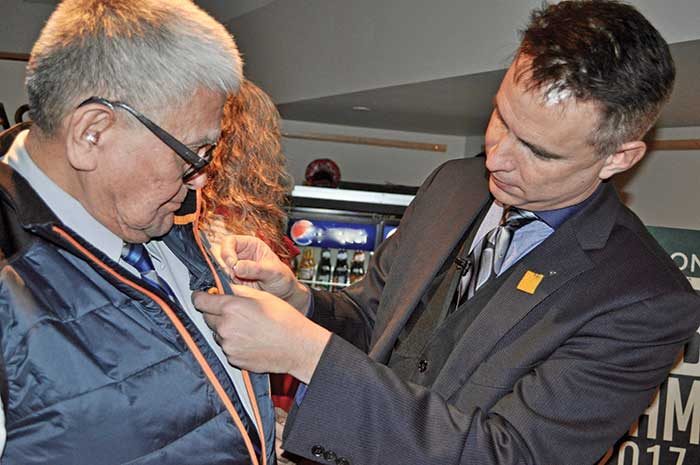 Acknowledging harms. Respect. Forgiveness. Opportunity.
Those were just some of the ways that business students from across British Columbia defined reconciliation in a video that was screened during a 'Reconciliation as a Call to Action' panel at the Port Theatre in Snuneymuxw territory on Jan. 4.
The event was hosted as part of the MBA (Masters of Business Administration) Games, a yearly event that includes both competitive and educational components.
Reconciliation Canada ambassador Robert Joseph, a residential school survivor and hereditary chief of Gwawaenuk First Nation, told the group of hundreds of students to hold on to the idea that they can make a difference.
"It's not easy to talk about reconciliation and then go about trying to make it happen," he said. "It takes courage and a lot of work."
I want you to be brave, be courageous, stay the course and (when) you are the leaders and you are the community, hold on to this idea that we are better together."
Joseph said he believes that now is a "pivotal moment" in Canadian history. "The distance between us is so huge, so hurtful, so chaotic," he said.
"On our 150th birthday, we have this opportunity like none we've ever had before. There may never be a time again if we don't grab this opportunity to make things right between all of us."
Meanwhile, Nanaimo-Ladysmith NDP Member of Parliament Sheila Malcolmson talked about reconciliation on a more local level. She told the story of how beloved former Snuneymuxw chief Viola Wyse changed Nanaimo for the better.
The MP said that more than a decade ago, Nanaimo was an "astonishingly racist" place and described a huge divide between Indigenous and non-Indigenous people.
But when Wyse was elected in 2006, Malcolmson said, the chief worked hard to build  relationships between her nation and the outside community.
"(Wyse was a) strong woman who stood up for her community, who said we're not going to tolerate that behavior anymore," Malcolmson said. "It's changed us."
When Wyse passed away suddenly in 2009, the impact of her work could be seen in full force," Malcolmson said.
"Nanaimo, which I'll say had been a really rough, really racist town, came out for her funeral," she said. "Leaders came from across the country.
Hundreds of people filled the recreation centre… I had this strong sense… that 10 years ago, the town would not have shut down for a funeral for an Indian chief."
Chief Joseph added that it's a tribute to Indigenous peoples' spirits that communities across Canada are so strong today.
"Imagine all the people who have come here since the beginning of colonization, and the Aboriginal people of this country are still walking," he said.
"They know that we're all here now. We're here together now. None of us are going to go away and we have to find a new way forward."
By Cara McKenna
The small square piece leather pinned to Robert Joseph was from the Moose Hide Campaign, a project to support change that will end the cycle of violence that women and children experience. On Feb. 16, the campaign will host its annual fast in Victoria as a pledge to end that violence. http://moosehidecampaign.ca
---
A MESSAGE TO SENTINEL READERS:
We are all in this together
We live in exciting times of opportunity to not only make things right for those things that went wrong, but to create a new way forward together.
We envision together a future that embraces inclusion and equality, peace and harmony and living out the values and principles that we already espouse.
This means that reconciliation is not just for Indigenous people, but for all Canadians. Conversely, it is not just for non-Indigenous people.
The honest truth is that we need each other if we are ever going to discover our common humanity.
Sustaining reconciliation is prompted through deep dialogue, heightened understanding and transformed relationships. We are in this together and we should all be engaged in the process of reconciliation.
The will in this country to do so is strong.
Chief Dr. Robert Joseph is a hereditary chief of the Gwawaenuk First Nation and is currently the ambassador for Reconciliation Canada and a member of the National Assembly of First Nations Elders Council.