Oil spills… seems like not 'If' but 'When'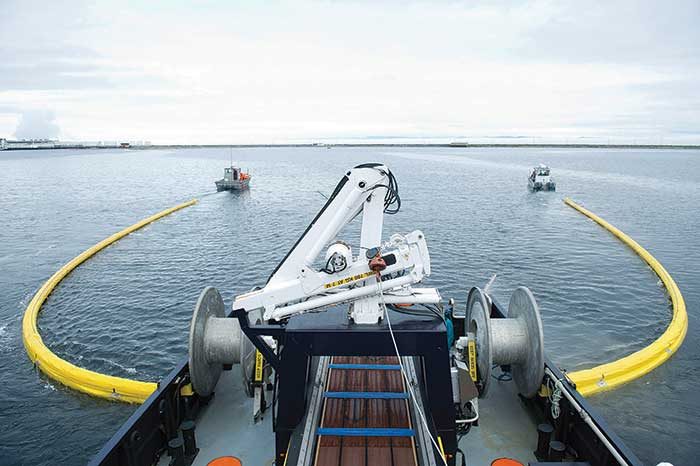 By Mark Kiemele
Vancouver has become one of the world's leading maritime hubs, shipping mineral and agricultural resources from BC, Alberta and the Prairie provinces to world markets.
Some say this is an economic feather in BC's hat. Others say the projected increase in oil tanker traffic—not to mention the growing number of freighters and other ships—is "a ticking time bomb" when it comes to potential environmental disasters and potential damage to bridges and other infrastructure.
The structural integrity of the Second Narrows and Lions Gate bridges has been called into question. Those structures carry almost 200,000 vehicles per day, but an examination of their piers' integrity, when it comes to collisions with ships, is still underway.
And in April 2015, when a cargo ship spilled thousands of litres of bunker fuel into English Bay, communication troubles delayed the emergency response for several hours with the Coast Guard receiving the brunt of the criticism.
That incident came just days after the Coast Guard and Transport Canada held a marine safety and risk reduction summit hosted by T'Sou-ke First Nation, where the words "world class response" were on the experts' lips.
Meanwhile, the federal government has set aside $1.5 billion for its Oceans Protection Plan for all of Canada.
The Western Canada Marine Response Corporation (WCMRC), an industry-funded body, is working on setting up oil-spill response bases around the coast, including five on Vancouver Island. The WCMRC is also creating Indigenous community response teams and offer training for search, rescue, environmental response and incident command.
Critics say this all portends that oil spills will happen someday.
But Trans Mountain said that support for the pipeline expansion project from Aboriginal  groups "is strong and growing, with 51 communities now in support." It said that since federal approval came on Nov. 29, a dozen more communities have signed on with their support.
The company has signed confidential mutual benefit agreements (MBAs) worth more than $400 million with First Nations in BC and Alberta. Trans Mountain said "the 51 agreements include all of the First Nations whose reserves the project crosses and approximately 80 per cent of communities within proximity to the pipeline right-of-way."
Two nations from Naut'sa mawt Tribal Council—Halalt and Malahat—are among those who signed MBAs with the company. But a Halalt spokesperson said signing did not indicate wholehearted support for the project; rather, it was a way of "keeping a hand in the game" if the project finally goes ahead.