New island ferry service seen as a boost for Snuneymuxw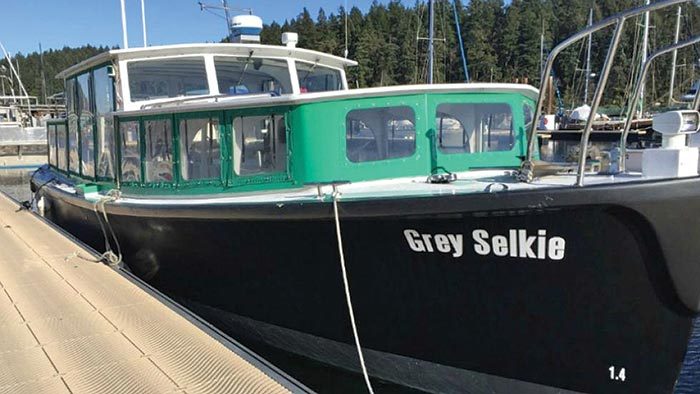 A new ferry began making the journey from downtown Nanaimo to Newcastle Island – Saysutshun – on April 1.
And Erralyn Thomas said the vessel should prove to be a win-win for both her nation and visitors to the provincial marine park that Snuneymuxw has managed for more than a decade.
The 48-passenger Grey Selkie was purchased from Victoria Harbour Ferry. It replaces a variety of smaller vessels that have been used in the past. Fares will be cut almost in half from previous years.
Thomas, who is a councillor, is also president of the newly formed Newcastle Island Ferry Service Ltd (NCI). She said the purchase of the Grey Selkie will "strengthen the Snuneymuxw economy and create jobs… to achieve results in the Snuneymuxw corporate strategic plan."
She also praised the partnership that has developed between NCI and the Waterfront Suites and Marina located on Nanaimo's waterfront.
"This is a major milestone for Snuneymuxw and the Nanaimo community," said Odai Sirri, who is director of operations for Waterfront Suites. "We are honoured to be part of this important initiative."
A round-trip to the island from two downtown locations will be $5 compared to the previous $9 fare. The new ferry will run from April-October and there are already plans to have limited trips year-round.
Trips will be made every 30 minutes during the peak tourist period in the summer. Stops will be made at Waterfront Suites' dock, Maffeo Sutton Park and the main dock on Newcastle Island.