TRC calls to action cover walls of new exhibit
By Tessa Vikander
The recently opened WE CALL exhibit is loud, and not just because its text murals span two large walls from floor to ceiling.
Behind the scenes of the display at Simon Fraser University's Teck Gallery, a community consultation process around decolonization is in the works.
Artist Cathy Busby's commanding exhibit opened this spring, and is showing at the gallery until April 2018.
Busby's chunky, colourful text murals spell-out an abridged version of the Truth and Reconciliation Commission's "calls to action" that were issued two years ago.
The commission's 94 calls to action, largely aimed at government, were made after a six-year investigation into Canada's residential school system that involved hearing testimony from thousands of survivors across the country.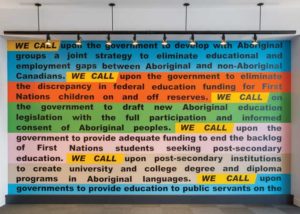 "I selected and edited the calls that are directed towards government agencies responsible for education, post-secondary institutions and cultural organizations," says Busby's artist statement.
Display curator Amy Kazymerchyk said she first conceived of the show in January 2016, after attending an art lecture where the presenter urged indigenous and non-indigenous artists to engage with the TRC's findings.
Knowing that Busby had previous experience creating installations around settler and Indigenous politics, Kazymerchyk approached her.
Busby agreed to the project of making a highly-visible installation of the calls to action. "We said okay, let's just make them public for a year," said Kazymerchyk.
Interviewed at the installation site, Kazymerchyk said the murals are "not aggressive, but assertive…non-apologetic, it feels like it really commands the space."
Beyond the exhibit, Kazymerchyk and Busby are engaged in a consultation process with faculties that are frequently addressed in the TRC's calls to action, discussing ways they can adopt the report's recommendations. This, noted Kazymerchyk, is separate but in conversation with an existing TRC response committee called the Aboriginal Reconciliation Council.
Kazymerchyk said the consultation process has been slow, thoughtful and guided by indigenous members of the SFU community. What she has found most surprising, she said, is that all the faculty have shown keen interest in incorporating indigenous knowledge into their curriculum.
"The will was what I thought was most compelling," she said. That, explained Kazymerchyk, is because with big institutions where standards are established over years of repetition, it's easy to think that those involved don't want to change the status quo.
Inspired by the Indigenous faculty members she and Busby have met with, Kazymerchyk said she's learned a lot.
"I think I've learned something about time and endurance and commitment. Doing social work like this takes time…people really have been doing this work [before us]."