Walk for reconciliation draws tens of thousands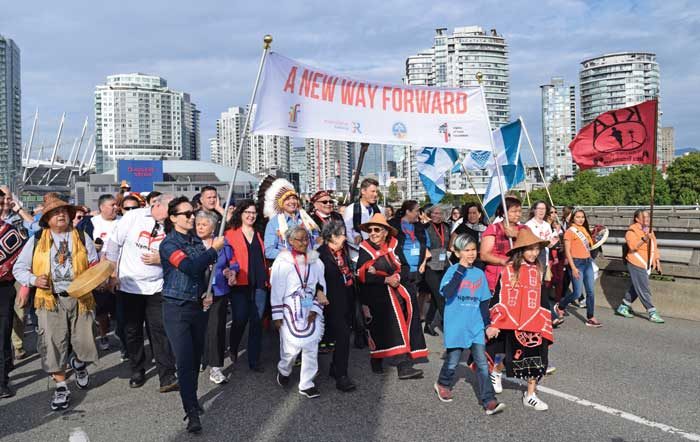 Story and photos by Cara McKenna
Standing on a wooden platform, Tsleil-Waututh Elder Amy George spoke to an enormous crowd of people before the Walk for Reconciliation in Vancouver on Sept. 24.
George, a survivor, spoke about a decade she spent in a residential school as a child, and how it took her many years to cope with the trauma.
"We were strapped and starved and punished," she said. "(But) today, I stand in my Sundance dress. They did not kill this Indian."
George said the abuse she experienced and witnessed was horrible, but the worst thing she learned was that the worst thing you can be is a First Nations person.
"I grew up thinking I was worthless, I was dumb, I was an ignorant Indian," she said.
"That's what I was taught when I was little. There are thousands of us like that."
After George shared with the crowd, an estimated 50,000 people flooded the streets of downtown Vancouver for a two-kilometre walk to Strathcona Park, where speeches and performances took place.
The event hosted by Reconciliation Canada was symbolic of a larger effort to see Indigenous and non-Indigenous people move forward together.
During one part of the event, residential school survivors and leaders were blanketed in a ceremony led by Squamish Hereditary Chief Ian Campbell.
"This now means we are family, we have adopted these people by blanketing them," he said. "The tide has turned. We are beginning a new chapter of Canadian history. One where our children will be safe."
B.C. Premier John Horgan, Assembly of First Nations National Chief Perry Bellegarde and Attorney General Jody Wilson-Raybould were all part of the ceremony.
Chief Robert Joseph of Reconciliation Canada said the event represented an important moment.
It was the second walk of its kind. An estimated 70 thousand people walked in the first one that took place four years ago during the Truth and Reconciliation Commission.
"To the survivors, we remember you. That's why all these people are here," he said. "We're going to learn how to look after each other and not to hurt each other anymore."