Carving out a life: Richard "Tomahawk" Thomas on his unique style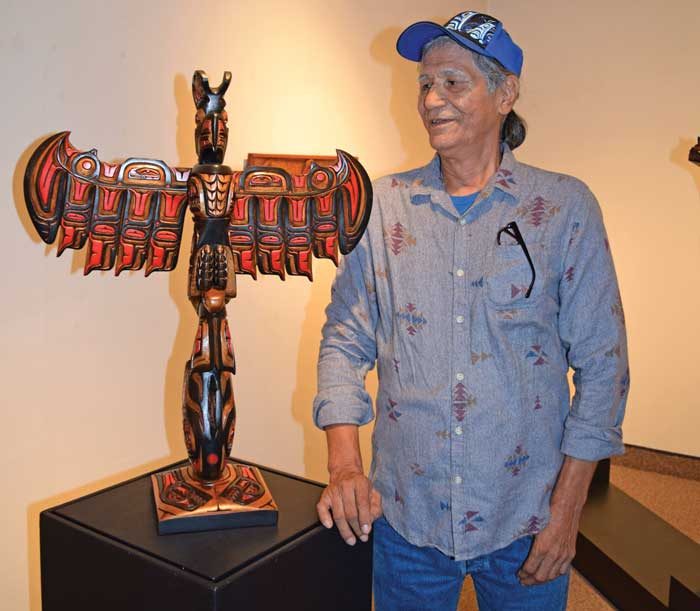 By Cara McKenna
While many artists learn traditional styles through years of mentorship, Snuneymuxw carver Richard Thomas never really had teachers.
His artwork is largely personal rather than traditional, and his striking pieces are informed by his life experiences and finding beauty during hard times. He taught himself his own style as a way of coping after residential school.
Thomas ran away from the facility when he was 17 years old after being abused and soon after ended up in the prison system for petty theft – something he did to survive.
If there was rehabilitation during his experience in jail, he says, he taught it to himself by painting on his cell walls. He was in and out of the system for several years, but when he was released for a final time, Thomas began carving. He sold his pieces to make a living and travel across the country. His art and identity are largely intertwined.
"Carving helped me find my path in life. It is who I am, and I love my life because of it," he says.
Decades later, Thomas continues to make a living through his carvings, and has sold pieces worldwide. He now lives in Comox with his family.
Thomas's work was recently featured at the Identity: Art as Life exhibition at Vancouver Island University's View Gallery through a partnership with TimberWest.
The Sentinel caught up with Thomas at the exhibition's opening.
Sentinel: When did you first become interested in art? Was it when you were growing up in Snuneymuxw, or after that?
Thomas: I guess I must have been always interested in it to be able to, with no training and nobody to teach me, to do it all on my own. I had one teacher, he showed me quite a bit, but that was only for about eight months. Everything else I just learned on my own.
Sentinel: Do you follow traditional Coast Salish styles at all?
Thomas: No, it's more of Kwakiutl style. That's what I learned. In a way I'm self-taught so my style isn't like other carvers. I kind of created my own style, and the two colours red and black are the only colours I use.
Sentinel: Do you carve with electric tools at all, or is it all by hand?
Thomas: All by hand. I only have one knife to do all this carving. Just one knife. One knife for shaping it, and one knife to do all the carving. It's pretty amazing what you can do with just one tool.
Sentinel: Could you talk a bit about when you first started creating art and how it came to evolve from painting to carving?
Thomas: When I switched over from painting, because I learned painting when I was incarcerated, I was home with dad and there wasn't much to do, so I picked up a piece of wood and started carving. That was January of 1976. I continued on my own for about a year and really didn't learn that much until I met Maury Clark, and he's the one who really showed me how to use a knife properly. That's the trick about carving is how to use a knife. It's been pretty interesting, going from being incarcerated. In my cell I used to draw great big murals and every week the guards would come along and paint over them, and the next week I'd be up painting a different mural. That went on and on for the whole time I was there.
Sentinel: Did they give you paints to use?
Thomas: They had an arts and crafts shop there so there were some water-colour paints. They let me do that to amuse myself and keep me out of trouble. It was in 1976 that I picked up a knife and started carving. I lived in Ontario for 15 years learning. The time I was out there, I was just learning on my own. Looking at pictures and seeing how pictures were done. I'd take a concept and go from there, and do it how I thought it was done.
Sentinel: So art has been a form of rehabilitation and relief for you.
Thomas: Yes, relief, because there's nothing to do in (jail). It's pacing the hallway or whatever. I used to spend a lot of time in my cell just doing Native art. I had never done it before so it was new to me but it intrigued me at the same time.
Sentinel: And I read that artwork helped you survive cancer as well?
Thomas: In my situation, I couldn't do anything else. I couldn't do anything for finances, I couldn't really work because of the situation I was in and the only thing I had was my artwork. I started really taking it seriously and I've carved out a life just by learning on my own.
Sentinel: It seems like it's been a constant thing for you in life, something that's always positive.
Thomas: Yeah, I've never been in trouble again. You know, the only time I was in trouble it was just for minor things anyways. Survival.
Sentinel: Do you really carve for nine hours every day?
Thomas: Yes. I usually start at about 8:30 in the morning and I carve until 5 or 6 at night. Every day. It's a long time. I especially like doing these walking sticks. People really love those. And then if somebody needs a cane, I carve canes for seniors for no cost.
Sentinel: I also wanted to ask you about (former Tsleil-Waututh) Chief Dan George, and your connection to him.
Thomas: When I first moved to Vancouver I met Chief Dan George and I was in a movie with him. And when I did get in trouble, after I knew him, I used to invite him into the institution where I was and he'd come in and give talks to the boys. Inspirational talks. And try to steer us in the right direction. That was amazing meeting him.
Sentinel: Have you done any acting since then?
Thomas: No. With my background and everything, I've been always trying to stay in the back of the crowd, not in the front. But it's been an amazing life, being self-taught, and being able to come and hang my work in a gallery is pretty amazing.
Sentinel: Where can people find your art if they want to support it?
The best place would be the I-Hos gallery up in Comox.
Sentinel: Is there anything else you want to say?
Don't give up, find something that you have a passion to do and keep on with it. Work on it, and you'll perfect that passion that you have.