Court hears First Nations' pipeline challenge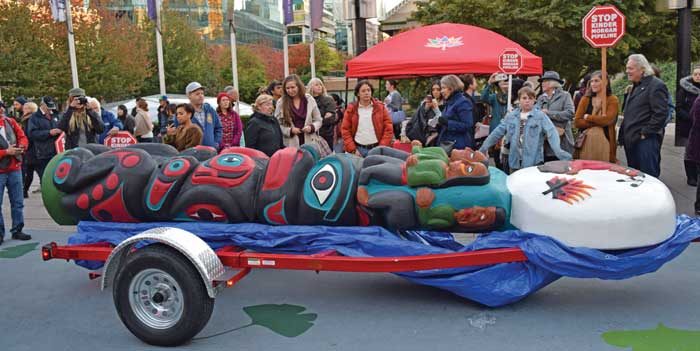 Photos and story by Cara McKenna
Tsleil-Waututh and other communities fighting the Kinder Morgan pipeline finally had their time in court in October as the Federal Court of Appeal heard their case.
Seven First Nations, two environmental groups and the cities of Vancouver and Burnaby are asking the court to quash Canada's approval of the $7.4 billion pipeline expansion from Alberta to Burnaby.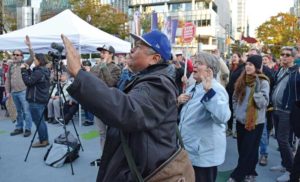 On Oct. 13, about 100 people gathered in downtown Vancouver to celebrate the end of two weeks of hearings.
Kayah George, a youth from Tsleil-Waututh Nation, shared how she has seen big changes in the water quality in her community even within her lifetime.
She also told the creation story of her people and the huge cultural and spiritual significance of the Burrard Inlet which would see a sevenfold increase in tanker traffic under the pipeline expansion.
"I've been told this story nearly every week since birth, it feels like," she said.
George explained that long ago, Creator put a man on the earth who was very lonely. The man saw animals who all had mates and wondered why he was alone, and prayed for company. One day, the man had a feeling that he had to dive deep into the inlet and grab two handfuls of sediment. He brought them to shore and put them next to himself, and fell asleep in the sun.
"When he woke up, there was a woman next to him, and that was our oldest ancestor," George said. "Our oldest ancestor is that inlet."
Kayah's father Rueben George, who has been a spokesperson for Tsleil-Waututh's anti-pipeline organization the Sacred Trust, elaborated by talking about the nation's court case.
"That story that my daughter just told is the beginning of our law…and that's what our lawyers explained," he said. "They just gave me firsthand information that the courts were really concerned with the lack of consultation, and they were really concerned with the marine shipment."
Construction on the pipeline expansion was initially slated to begin this fall, however if the court decides against the project, it could send it back to assessment, which would cause long delays.
Benjamin West, who also works with Tsleil-Waututh and Sacred Trust, said he feels hopeful about defeating the pipeline, but pointed out how long the fight has been.
"This has been a fun eight years or so, hasn't it?" West quipped. "It was almost a year to the day that the Federal Court of Appeal process started, which is what killed the Enbridge pipeline…Since we started fighting against these tarsands pipelines, there hasn't been a single one of them built."
After the speeches, master Lummi carver Jewell James brought in his latest healing totem pole that is on tour across North America, which people prayed on.
The Lummi House of Tears Carvers regularly travel across the continent with their work as a way to bring attention to fossil fuel projects threatening Indigenous communities.