Six-day journey celebrates wild salmon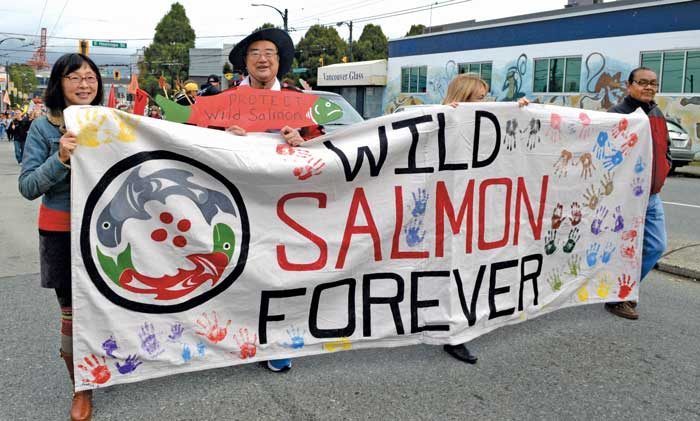 Photos by Murray Bush
Wild salmon have been of immense importance to Indigenous people in B.C. since time immemorial.
But in recent years, many communities have noticed wild salmon stocks declining, prompting new concerns about what's causing the low numbers and how the fish can be saved.
That's why organizers started the Wild Salmon Caravan – a journey that follows wild salmon on their annual migration from the Salish Seas to Secwepemc territory.
The third annual Caravan took place from Oct. 7 to 12, starting in Vancouver where hundreds took part in a parade and salmon feast before moving on to communities including Chilliwack, Merritt, Kamloops and Chase, and ending at the Adams River.
The event works with Indigenous people, environmental health organizations and artists to host ceremonies, performances and feasts along the journey's route.
Secwepemc Matriarch Bernice Heather explained that the event is meant to honour wild salmon as participants follow them home.
"Wild salmon are our most important Indigenous food and cultural and ecological keystone species in the forests, fields and waterways," she said.
At the opening event in Vancouver, Senaqwila Wyss of Squamish Nation said it was powerful to see how many people want to fight for the salmon.
"We all are here together, people from all corners of the earth," she said.
The event also overlapped with ongoing fish farm occupations happening along the coast,  which have seen dozens of Indigenous leaders protest the farms that they say negatively affect wild salmon populations.