Snuneymuxw-carved house post for children and family unveiled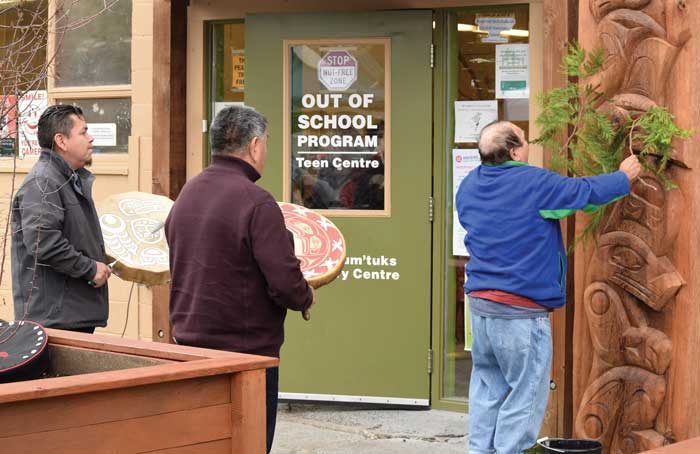 Photos and story by Cara McKenna
A newly revealed Snuneymuxw house post will serve as a permanent reminder of relationship building and respect between two organizations that share it.
The carving by Noel Brown now graces the entrance of the complex that houses the Nanaimo Aboriginal Centre and Boys and Girls Club.
The work being called the "Children and Family House Post" was funded through a $20,000 grant from the B.C. Museums Foundation.
At an unveiling ceremony in late October, Nuu-chah-nulth Elder Willard Gallic blessed the post with cedar.
Gallic, speaking on behalf of the artist, explained the meaning of the carving.
The post features four animals: a bear on the bottom to represent strength and power, then a whale, a wolf, and an eagle at the top to keep watch.
"The raising of a house post or a pole is very sacred to us," he said. "It's something that we don't take lightly."
Later in the day, two school groups from Snaw-naw-as's Headstart Program and the Nisaika Kumtuks Elementary Centre – which is located in the Nanaimo Aboriginal Centre's complex – performed songs.
Then a group from Cowichan Tribes performed a traditional dance, before the event concluded with a salmon feast.
Chris Beaton, the executive director of the Nanaimo Aboriginal Centre, said he feels the house post highlights a reconciliation process between Indigenous and non-Indigenous organizations.
"This whole conversation that's happening in this country around reconciliation really is, at its heart, around relationship building," he said. "It's about finding ways to learn about each other and having respectful conversations with each other…It's as simple as that."