Young leaders teach businesspeople how to partner with First Nations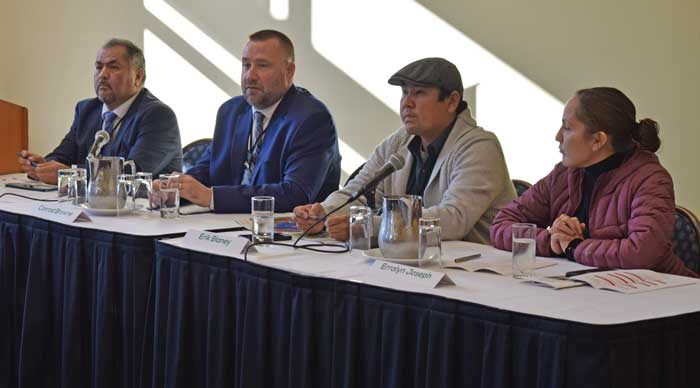 Businesspeople from across Vancouver Island learned about the basics of partnering with First Nations during a special event in Snuneymuxw territory on Oct. 25.
A panel discussion on Indigenous business and economic development took place during the 11th annual State of the Island Economic Summit in downtown Nanaimo.
The summit is hosted each year by the Vancouver Island Economic Alliance with an aim to build collaboration between various leaders and stakeholders.
Erik Blaney from Tla'amin, Erralyn Joseph from Snuneymuw and Conrad Brown of the Gwa'sala-'Nakwaxda'xw Nations spoke to a crowd of dozens about their business experience and answered questions.
Maynard Harry, a former Tla'amin chief, moderated the event.
Harry said, though all First Nations develop differently, it's important for anyone wanting to do business with them to have a basic understanding of certain things.
"If you as individual business owners want to work with First Nations, you have to have an idea of what life is like on an Indian reserve, the Indian Act, land code," he said. "First Nations are a different animal, we're communal in nature, the Indian Act created that."
Blaney highlighted the various communities he works with as an economic advisor for Naut'sa mawt Tribal Council and how different they are.
"We have a very diverse mix of economic development strategies," he said, highlighting ventures such as Tsawwassen Nation's megamall and T'Sou-ke's wasabi business.
Joseph, a councillor with Snuneymuxw First Nation, said her nation has been growing its participation in business in the last decade.
She said that was due to a reconciliation agreement the community signed in 2013.
"We need that legal component and that respect and recognition by the business community of our rights and title in our own land so we can unlock the potential ourselves," she said. "Non-First Nations business partners are going to be key."
Joseph said that, like many communities, Snuneymuxw has been bogged down by a lack of respect.
"It's basically 150 years of federal and provincial governments really denying the existence of Snuneymuxw," she said. "Hopefully with the new elections, federal and provincial, we can blaze a different path."
More information about the summit and resources on Indigenous business on the Island is available at viea.ca.