Remembering Leonard George: hundreds gather for beloved elder's funeral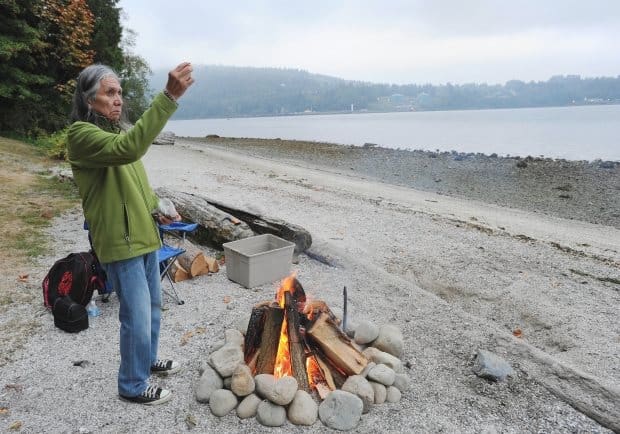 Hundreds of people gathered to remember Tsleil-Waututh Elder Leonard George on Saturday during a service at the nation's cultural centre.
The renowned spiritual leader and former elected chief died on Dec. 6. He was 71 years old.
On Dec. 9, George's friends and family gathered to pray, sing songs and share stories about his life.
Three of George's friends delivered his eulogy: Dr. Lee Brown, David Negrin and Steve Edge.
Edge, a fellow actor, said George's smile made all his worries disappear, and the two were always laughing together.
Brown also said he will miss George's humour, and spoke of how much he loved his wife, family and community.
"When I would travel with Leonard, he was known everywhere we went," he said.
"And Leonard was always kind, no matter how tired we were. He extended dignity to everyone he met, and that is a great thing."
A news release from Tsleil-Waututh Nation said that George touched many people with his smile, compassion and sense of humour.
George led Tsleil-Waututh Nation as chief between 1989 to 2001. He was also a leader in the business community as well as an actor and musician. George oversaw the growth of the community and played a critical role in the community's healing in the era after residential schools.
Chief Maureen Thomas said George was a gifted visionary who did much for his people, with everything from introducing reading programs to leading the way on major economic development projects.
"It is a sad time for our community as we are in deep mourning," she said.
"Leonard was truly one of our most gifted visionaries, empowering him to create change for the betterment of our nation. His focus was always on the people."
In lieu of flowers, George's family is accepting donations to Tsleil-Waututh Nation's youth and education fund.