Homalco basketry resonates through generations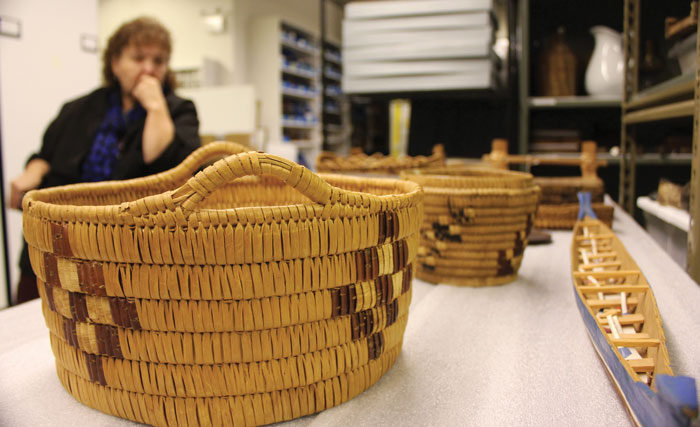 Photos and story by Todd Peacey, Homalco Nation
Growing up I never had the chance to meet my mother's mother— my granny Irene Joseph. She had passed on at an early age in 1957, leaving my mum, myself and three siblings, and my Grandfather Paul behind.
I did, however, learn over the years that Irene was an avid cedar basket weaver and that she had her own style of weaving. When I was growing up, mum would always fill a basket at Easter for me and I always looked forward to that basket every year for the chocolate and treats, not knowing that the basket itself was one of many that my grandmother had made by hand.
My mother Vera was taught to weave as a child by Irene while she was growing up in Redonda Bay, a small fishing village near Cortez Island. She can remember collecting roots and bark from various trees and locations near Vancouver Island and how much hard work it was weaving those beautiful baskets. My Mum recalls Irene spending many hours, if not days, completing an order for baskets which was requested by a family far from where they had lived. No payment was given, but back then an honour system was normal for most people, and my grandmother had finished the basket order and simply mailed them off with hopes of receiving a cash payment from the buyer. But time went by and she ended up receiving nothing more than a box of used clothes in the mail. It was a payment, but not what she had hoped for. Back in those days it was considered a fair trade by most to simply send something of use.
Many years went by, and mum kept what baskets and memories she had of her mother and never expected to see any more baskets come her way, until a dear friend of the family presented her with a basket which her mother had made. My mum was overjoyed and decided to preserve the weavings she had collected over the years in the basket collection at the local Museum at Campbell River.
She now has tracked and collected more than 10 baskets ranging in size and purpose —keep in mind that the baskets were made to have a purpose more than they were for decoration, and most were made for many common uses such as serving trays, vinyl records holders and comic books.
My mum has a keen interest in learning about other weavers and has collected and returned other such baskets to their rightful owners, which she finds highly rewarding and feels that is helping to preserve our culture and roots.