'A wave is coming'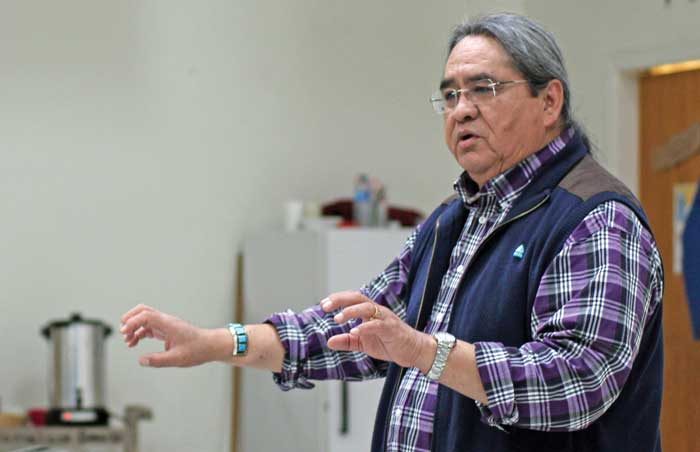 By Edith Moore, NmTC communications liaison
Photos by Todd Peacey in Homalco
"A wave is coming of First Nations controlling their own destinies and running the show." –Dr. Manley Begay
Naut'sa mawt Tribal Council recently hosted Dr. Manley Begay on a tour of five of our member First Nations. Dr. Begay is a world-renowned leader in Indigenous governance with Arizona State University. He has spent 30 years studying, travelling and gaining knowledge of what works for many nations that wish to exercise sovereignty and jurisdiction, and he now offers instruction of what he has learned.
Dr. Begay held sessions at Homalco, Tsleil-Waututh, Tsawwassen, Malahat and T'Sou-ke during the end of March. His presentations posed challenging questions as he told inspiring stories of growth from First Nations around the world.
What is the definition of Indigenous sovereignty? What does sovereignty mean in your own language? These questions and the subsequent answers should be based on the foundations and roots of who you are, not the Queen and the Crown's definition of aristocracy. In the Navajo perspective, Indigenous sovereignty is peace, harmony and love. Once our own sovereignty is defined with our own cultural values, then we can exercise jurisdiction.
Dr. Begay reminded us that now is a critical time for our grandchildren, and to think about what kind of legacy we are leaving for our unborn. That we need to lay the foundation for them so that they may live in a good way. How will our children live 50-100 years from now? That question needs to be answered today.
He shared a few inspirational stories from U.S. tribes such as Mississippi Choctaw, where 100% of the membership is employed. That nation also provides the best schools, pharmacy, and elder care within all surrounding communities.
Nation-to-nation mentorship was the premise of this invitation to host Dr. Begay, and I believe NmTC hit the mark. We received nothing but positive feedback from our participants, and we are pleased that the stories of success from the nations he toured will be added to Dr. Begay's roster.
Dr. Begay promised that when the snow melts on the western mountain in Navajo land, a prayer will be offered up for all of
us.I myself believe that it will take a lot of prayer and hard work, but we now have a clearer vision of what can be achieved.